Science & Technology
---
4-Hi Goes Fast
November 9, 2018
Posted by: Molly Gregg
Well–crafted teaching resource make student engagement easy! We're glad you're here to learn more about the 4-Hinnovators curriculum, and we hope that you'll add it to your educational toolbox. We want to help you prepare your young people for their future. It's through the tradition of 4-H's hands-on learning that your students will have the opportunity to apply statistics, solve problems, and undertake experimentation that comes naturally to people. Below, you will find a brief synopsis of the lesson one 4-Hi course that is available to you for free through our Canvas delivery system.
Seen a cool car lately? What goes into making a great car? Style? Safety? Environmentally friendly? Those are the details engineers work out when they design a car or truck.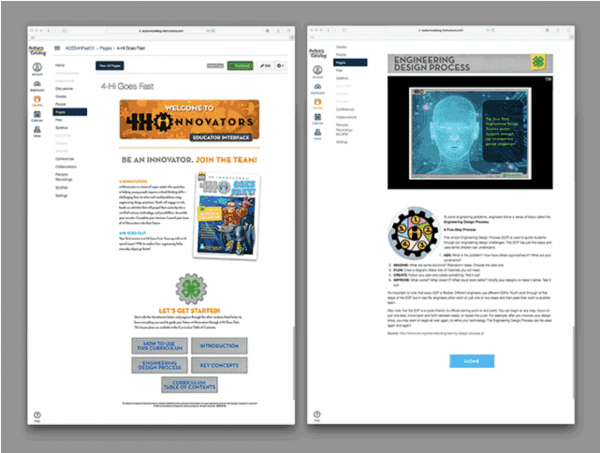 4-Hi Goes Fast Lessons:
Movin' and Groovin': 4-Hinnovators learn the importance of design when creating aerodynamic cars. Your 4-Hinnovators' challenge is to build a prototype that is aerodynamic so it will go fast and energy efficient so it will go far.
Road Rocket: The science and engineering of energy is critical when designing cars. An automobile will not move without energy. Your 4-Hinnovators will learn about energy and that will help with their challenge of constructing a car that will travel 5 feet the fastest.
Made to Order: Your 4-Hinnovators design and simulate the assembly line process to speed up car manufacturing. In this 4-Hi challenge, your youth will create a design process that allows a car manufacturer to make as many cars as possible in 3 minutes.
Get a Grip: Engineers work to ensure that our tires and shoes are made from materials that last well, are designed to reduce the risk of injury, and make our foot or road journeys comfortable and pleasant. In this 4-Hi challenge, innovators will design tire treads to reduce accidents during rainy weather.
Click to open a new browser window to enroll.
Meet William Moto
Team up with 4-Hi speed expert William Moto, also known as Willz, for hands-on, inquiry-based lessons about aerodynamic car design, new forms of propulsion, tires, and assembly lines.
Willz likes speed and has a talent for building things and creating tools. As a power wheelchair racer, he knows a lot about energy and aerodynamics. Willz asks questions, asks more questions, and solves problems.