Successful Aging Initiative
January 14, 2019
Posted by: Dorothy Brandon
What is 
the Successful Aging Initiative?
The Successful Aging Initiative (SAI) program promotes health and estate planning for Alabama's older adults, families, and caregivers.
The program uses Seniors CAN, a curriculum that educates older adults on issues such as health, safety, economics, and well-being.
Older adults will learn how to:
Prepare a will, power of attorney, or an advance directive in the event of illness or death.
Prepare a spending plan, cut living costs, and avoid financial fraud and scams.
Safeguard their homes against falls
What is the goal of the 
Successful Aging Initiative?
The goal of the Successful Aging Initiative program is to help seniors to live as independently as possible during the latter years of life – preferably in their own homes, in good health, and as a valuable member of society.
Facts about Older Adults
2 million adults will be 65+ by the year 2060
14% or 6.5 million seniors live in poverty
Falls are the leading cause of injury for older adults
1 in 4 adults age 65+ fall each year
6 out of 10 adults do not have a will
90% of senior scams are committed by family members
(Sources: Census Bureau, AARP, NCOA, & Pew Research Center)
SAI: The Conference
The Virginia Caples Lifelong Learning Institute (VCLLI) hosts annual statewide SAI conferences.
These Successful Aging conferences are held in Lauderdale, Madison, Calhoun, Jefferson, Bullock, Elmore and Montgomery counties each year.
These events allow older adults to gain valuable knowledge and to connect with resources in their communities.
Contact Us
Contact the nearest Urban Extension agent below for more information. Don't worry if your county isn't listed, Alabama Extension serves all 67 Alabama counties. Our agents work within a network, providing education opportunities to surrounding areas.
State Office
Alabama A&M University
Dr. Dorothy Brandon
Office: (256) 372-5458
Email: dpb0010@aces.edu
Urban Centers
Calhoun County Extension Office
Marchale Burton
Office: (256) 237-1621
Email: burtome@aces.edu
Jefferson County Extension Office
Nkenge Hyter
Office: (205) 325-5342
Email: nch0004@aces.edu
Lauderdale County Extension Office
Darlene Minniefield
Office: (256) 766-6223
Email: minnida@aces.edu
Madison County Extension Office
Donna Gullatte
Office: (256) 536-4779
Email: jonesdl@aces.edu
Mobile County Extension Office
Pamela Irby
Office: (251) 574-8445
Email: pgi0001@aces.edu
Montgomery County Extension Office
Ciji Griffin
Office: (334) 738-2580
Email: czg0019@aces.edu

Danielle Rudolph
Office: (334) 270-4133
Email:ddr0007@aces.edu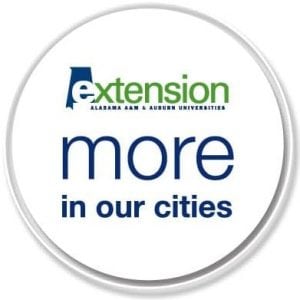 Did you find this helpful?