Home & Family
---
Watermelons: The Refreshing Taste of Summer
June 30, 2023
Posted by: Justin Miller
AUBURN UNIVERSITY, Ala. — When the summer sun is scorching and you need quick relief from the heat, there is little more refreshing than a juicy slice of fresh watermelon. However, it is important to know what to look for in order to pick watermelons at their peak ripeness.
Checking for Ripeness
Bethany O'Rear, an Alabama Cooperative Extension System home grounds, gardens and home pests regional agent, said the peak harvest time for watermelons is dependent on the variety.
"Most watermelon varieties are ready to pick 80 to 90 days after planting," O'Rear said. "However, maturity and ripeness can differ based on weather, location and the nutritional status of the plants. So, you cannot check for ripeness based solely on the planting dates."
Ground Scars, Tendrils and Thumping
When watermelons are ripe and ready for harvesting, the melon will have a dull, yellowish color where it has been touching the ground. People refer to this spot as the ground scar or belly spot. In striped-watermelon varieties, this scar will be prominent. However, not all varieties develop prominent ground scars, so you may need to check for other signs of ripeness.
"Another way to check ripeness is to look for the dead tendril or curl near the point where the melon is attached to the vine," O'Rear said. "This method works pretty well for seeded watermelon varieties, but not for seedless ones."
When buying a watermelon that has already been picked–such as ones from a roadside stand or a farmers market–the thumping method is commonly used to check for ripeness. The belief is that when an unripe watermelon is thumped, it will produce a higher-pitched pinging sound, and overripe watermelon will make a lower thud sound.
"When using this method, listen for a deep — rather than metallic — sounding thump," O'Rear said.
A Nutritious Treat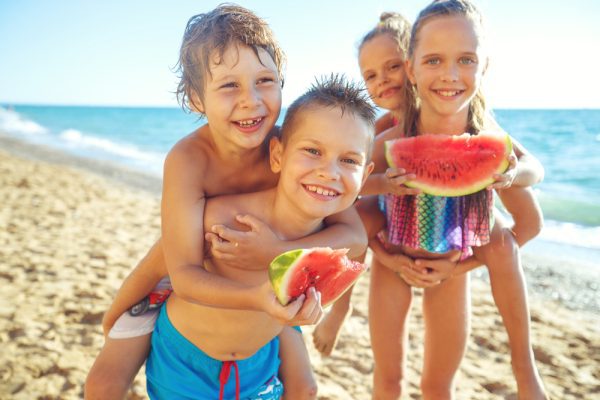 Watermelon is an excellent source of vitamin C. In fact, according to the United States Department of Agriculture (USDA), just one wedge of watermelon contains over 23 milligrams. This accounts for 38% of daily vitamin C requirements.
Vitamin C plays many important roles in the body. For example, it protects cells from harmful elements found in cigarette smoke, air pollution and ultraviolet light. It is also used in the production of collagen, which is required to help wounds heal.
Sondra Parmer, the Alabama Extension assistant director for federal nutrition programs, said watermelon is a great summertime fruit option for the whole family.
"Whether it be at a grocery store or at a farmers market, watermelons are a readily available fruit to enjoy during the summer," Parmer said. "It is also a mobile-friendly fruit, so it is perfect for families to take along on their outdoor adventures."
While watermelon is great by itself, it is also wonderful to incorporate with other ingredients. Live Well Alabama — an Alabama Extension initiative developed by the Supplemental Nutrition Assistance Program-Education (SNAP-Ed) — has two refreshing recipes that incorporate watermelon. Head on over to www.LiveWellAlabama.com to find the Watermelon Rosemary Flavored Water and Melon and Mint recipes.
More Information
Want to try your hand at growing and harvesting your own watermelons? Alabama Extension's Grow More, Give More project has a watermelon growing card that contains all of the information you will need to get started next year. Find this card at www.aces.edu/go/growmore.