Farming
---
The Alabama Forage Basics Handbook provides beef and forage producers in Alabama and the Southeast region with Extension and research-based information on animal, environment, forage, and soil topics. Objectives are to increase profitability and resilience, assist with risk management, and promote competitiveness in the livestock industry.
Preface
The livestock industry is one of the most important agricultural industries in the Southeast region. In Alabama, it is the second most important, just behind the poultry industry. The recommendations and guidelines suggested in this handbook address common questions and concerns with the convenience of fitting in your pocket. The authors do not assume any responsibility, make any guarantees, or offer any warranties regarding the results obtained from using any management strategies or suggestions included in this handbook.
This publication was made possible by funding from the Alabama Cattlemen's Association through their marketing program.
---
Contents
Plant Physiological, Morphological & Growth Characteristics
Seasonal Distribution of Forages in Alabama
Stand Establishment & Management Strategies
Soil Fertility & Sampling & Forage Crop Fertilization Requirements
Management & Marketing Economics
Ecosystem Benefits of Grasslands
Appendix A – Methods to Estimate Forage Production
Appendix B – Steps for Drying Samples Using a Microwave Method
Appendix C – Adjusting Stocking Rate
Appendix D – Resources for Forage Growers


---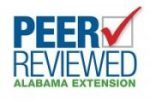 Adam Rabinowitz, Extension Economist; Audrey Gamble, Assistant Professor; David Russell, Extension Weeds Specialist; Jason Sawyer, Associate Professor; Katelyn Kesheimer, Extension Pests Specialist; Ken Kelley, Regional Agribusiness Extension Agent; Kim Mullenix, Extension Beef Cattle Systems Specialist; Leanne Dillard, Extension Forage Specialist; Liliane Silva, Postdoctoral Fellow; Max Runge, Extension Economist; Rishi Prasad, Extension Nutrient Specialist; and Soren Rodning, Extension Veterinarian; all with Auburn University
The authors wish to thank the following individuals for their contributions:
Don Ball, Emeritus Professor; Gerry Thompson, Regional Extension Agent; Joshua Elmore, Regional Extension Agent; Landon Marks, Regional Extension Agent; and Valens Niyigena, Extension Small Ruminant Specialist
New October 2022, Alabama Forage Basics Handbook, ANR-2845
For questions about accessibility or to request accommodations, contact Extension Communications and Marketing at 334-844-5696 or extcomm@aces.edu.