Finance & Career
---
Fraud and Scams Among Older Adults
October 6, 2022
Posted by: Dorothy Brandon
Financial exploitation is defined as the unlawful or improper use of an older adult's money, property, or assets for personal gain. This exploitation, commonly done through fraud and scams, is the most common form of elder abuse in the United States. Unfortunately, older adults lose billions of dollars each year because of this widespread problem. In 2021, there were more than 1,100 reported cases of fraud among older adults with losses of over $17 million in Alabama. These numbers, unfortunately, do not include those individuals who do not report fraud.
Given their age-associated vulnerabilities, older adults are prime targets for many scams. Although elder fraud is committed by professionals and strangers, 90 percent of these cases are committed by family members or individuals the person trusts. When fraud occurs, older adults find it difficult to recover and can suffer from depression, anxiety, and sleeping disorders. They also experience betrayal, shame, embarrassment, helplessness, and/or anger.
Types of Fraud and Scams
Lending and property fraud are two common types of elder fraud. These include payday, title loans, and other fraud that violates a legal or ethical bond of trust, such as the power of attorney or investments. Although many types of scams target older adults, identity theft and imposter scams are also prevalent. Several common imposter scams targeting older adults include the following:
IRS Scam
In this scam, a person calls stating they are from the Internal Revenue Service (IRS). They often say you owe back taxes and threaten to arrest you or take some other form of legal action. The caller may also state they must verify data by obtaining personal or financial information from you. Other imposter scams work the same way, except they state they are calling from the sheriff's department, the bank, Social Security Administration, Medicare, or another organization.
Things to Remember
A caller ID showing the IRS does NOT mean the call is legitimate.
Government agencies will NEVER ask you to send money or gift cards or wire transfer funds, etcetera.
Government agencies will NEVER call, email, or text you to verify payment information. NEVER provide your personal or financial information.
Tech Support Scam
You will receive a call or a popup message from a computer, the Internet, or a software company stating that your computer has a virus or malware. They will use scare tactics to try to trick you into acting quickly. They may ask you to provide remote access to your computer, purchase new software, or allow them to walk you through the steps in how to fix your computer. You may also see a large, red notification pop up that says, "Your device is infected!" A number will be given for you to call.
Things to Remember
HANG UP the phone.
NEVER give anyone remote access to your computer.
Legitimate tech support companies will NEVER call you.
DO NOT click on or call a number on a popup.
Grandparent Scam
This scam works in different ways. The caller claims to be your grandchild. They tell you, the grandparent, that they are in a crisis (i.e., arrested for a car accident while driving under the influence, stuck in a foreign country, etc.). They then plead with you to send money (wired money, gift card numbers, etc.), and continuously tells you the situation is urgent and you need to send money immediately.
In some cases, the person impersonating the grandchild will pass the phone to another individual who claims to be a lawyer representing the grandchild, or you may receive a call from someone who says he is calling on behalf of your grandchild who is in a crisis. The grandparents are told by the imposter not to mention the situation to the grandchild's parents.
Things to Remember
Regardless of what information they may know and tell you about your grandchild or you, immediately HANG UP the phone.
Call your grandchild, their parents, or other family members to verify the story. DO NOT use the number given by the caller nor the number displayed on the caller ID.
DO NOT wire/overnight money or gift cards.
Romance Scams
This scam is also called an online dating scam. The scammer uses platforms such as online dating sites, social media, and chat rooms to post a fake profile. Once contact is made, the scammer pretends to be interested in you romantically. They slowly builds trust, and after some time, you will be asked to communicate through your personal email.
They then take advantage of your desire for companionship by telling you that they love you. The individual will say to you that they live far away. After building a relationship, the individual will ask you to send them money for something urgent such as an emergency medical procedure, loan, airplane ticket, etc.
Things to Remember
NEVER send money.
Just because a site targets religious individuals, it doesn't mean everyone is honest.
Profiles and photos can be FAKE.
Be careful what information you share.
Be cautious if a person wants to quickly establish a romantic relationship.
NEVER share financial information.
DO NOT send intimate photos (they can use them to blackmail).
Recognizing Scammers
Although tactics may differ, scammers attempt to instill fear, insist that elders act immediately, or require funds to be sent via wire transfer or downloaded onto prepaid cards. They also require secrecy or trick older adults into clicking on a link or an attachment by using language, such as the following:
You need to confirm your personal information
Our records show some suspicious activity on your account
You are eligible for additional savings through our federally-sponsored program
Preventing Scams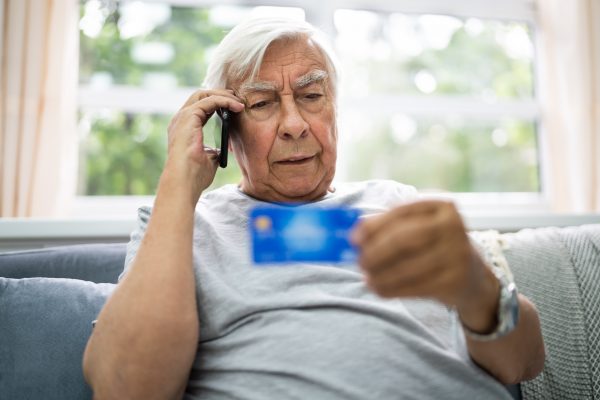 The goal of a scammer is to get older adults to trust them. However, whatever method is used, there are several things older adults can do to stop scammers in their tracks.
Do not trust everything. Spoofing is using false data, such as a number or email, to commit fraud. Do not trust all emails, texts, or phone calls from strangers asking to verify or provide personal information. Try to verify unknown numbers or email addresses by conducting an online search. Many times, consumers have already reported a scam, and warnings are posted online.
Don't give any money to a charity before determining if it is legitimate. To confirm that a charity is legitimate, use the website charitynavigator.org, contact their local Better Business Bureau, or contact the Alabama Attorney General's Office.
Call other family members or friends to verify information about emergencies.
Hang up on calls asking for personal or financial information.
Do not click on links or open attachments from unknown individuals or organizations.
Stay updated. Keep your computer and cellphone software updated.
Reporting Scams
Report fraud or scams to the following:
Reporting scams is not just the job of the victim. Pay close attention to older adults and be on the lookout for possible scams. Look for unexplained changes in their financial situation. Also, watch for older adults to exhibit signs of scams such as overprotectiveness of new friends or caregivers, fear when around certain individuals, or secrecy.
More Information
Financial exploitation of the elderly is a widespread problem that is increasing throughout the world. Millions of older adults lose hard-earned dollars to fraud and scams every day.
The Alabama Cooperative Extension System educates consumers about elder fraud through the Consumer Education for Seniors program. To sign up for the program, contact your county Extension office or Dorothy Brandon at (256) 372-5458 or dpb0010@aces.edu.