Crop Production
---
Increasing Adoption of Climate- & Water-Smart Irrigation Practices Among Tennessee Valley Farmers in Alabama & Tennessee: Findings and Lessons Learned (2017-2021)
November 16, 2021
Posted by: Brenda V. Ortiz, G. T. Morata, Hemendra Kumar, Jasmeet Lamba, Bruno P. Lena, Luca Bondesan, Laljeet Sangha, Puneet Srivastava, Leah Duzy, Tyson Raper, and Dedrick Davis
The following is an overview of the outputs from the Increasing Adoption of Climate- & Water-Smart Irrigation Practices Among Tennessee Valley Farmers in Alabama & Tennessee project. 
This NRCS-funded project focused on on-farm evaluation and demonstration of irrigation best management practices (BMPs): climate forecast-based water withdrawals during winter for irrigation in summer, use of soil sensors for irrigation scheduling, variable rate irrigation (VRI), better irrigation system operation and maintenance, and facilitating peer-to-peer knowledge exchange and skills development to support adoption of BMPs.
Increase Crop Water Use Efficiency
The use of soil sensors to support irrigation scheduling and variable rate irrigation (VRI) helps farmers reduce risk of yield losses, save water, better allocate water across a field, and increase revenue.
Right Irrigation Timing
Irrigation scheduling using soil water tension (SWT) sensors will now be easier for farmers and consultants. SWT values indicating irrigation initiation for major soil types in Alabama were determined. Additional validation is needed.
Better Nutrient and Irrigation BMPs
Field variability of soil phosphorus (P) levels was linked to soil moisture variability, terrain elevation, and eroded areas. Variable rate fertilization and irrigation could reduce soil P loss and minimize yield losses.
Withdrawal Water Using Climate Forecast
El Niño Southern Oscillation (ENSO) influences the south-eastern climate. More water withdrawal and water storage in northwest Alabama during La Niña phase of ENSO could guarantee water availability for irrigation in the summer.
Right Irrigation Rate @ Right Place
Spatial variability of soil moisture and yield across rolling terrain fields can be explained by topographic in- dices (TWI and TPI). Delineation of irrigation management zones should incorporate those indices.
Peer-to-Peer Knowledge Exchange
Farmers focus groups allowed farmers to share with their peers experiences with current and new irrigation practices. Hands-on trainings and experimentation also increased knowledge and skills.
Farmers using climate and water-smart irrigation practices can:
Maintain or Increase Yield
Less water applied on parts of the field where soils hold more water did not impact crop yield or yield variability.
Save or Better Allocate Water
Northwest AL site (2020):
High yielding zone:
9.5% less water than low yielding zone*
*Revenue in the low yielding zone increased by 4.6% as compared to dry land.
Southeast AL site:
28% less water – 2018 wet year
16% less water – 2019 dry year
Increase Revenue
6.2% increased revenue with respect to dry land
Download a PDF of the full report on the Increasing Adoption of Climate- & Water-Smart Irrigation Practices Among Tennessee Valley Farmers in Alabama & Tennessee project, ANR-2776.
For questions about accessibility or to request accommodations, contact Extension Communications and Marketing at 334-844-5696 or extcomm@aces.edu.
---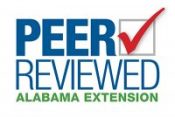 Brenda V. Ortiz, Extension Specialist, Professor, Crop, Soil, and Agronomic Crops, Auburn University; G. T. Morata, Regional Extension Agent, Agronomic Crops, Auburn University; Hemendra Kumar, PhD Candidate, Biosystems Engineering, Auburn University; Jasmeet Lamba, Associate Professor, Biosystems Engineering, Auburn University; Bruno P. Lena, Postdoctoral Fellow, Crop, Soil, and Agronomic Crops, Auburn University; Luca Bondesan, Visiting Scholar and Research Assistant, Auburn University; Laljeet Sangha, Graduate Student, Biosystems Engineering, Auburn University; Puneet Srivastava, Professor, Associate Dean for Research, Associate Director, Maryland Agricultural Experiment Station; Leah Duzy, Agricultural Economist, Private Consultant from Compliance Services International; Tyson Raper, Assistant Professor, Cotton and Small Grains Specialist, University of Tennessee; and Dedrick Davis, Assistant Professor, Soil Physics, Alabama A&M University
Special recognition to farmers Steve Posey, Matt Haney, Bill Bridgeforth, Greg Bridgeforth, Lamont Bridgeforth, Jim Lewey, and Richard Crews who made this project possible. This project would not have been possible without the work of many undergraduate and graduate students especially Barrett Mason, Kyle Stewart, Mary Heron, Taylor Putman, Megan Thurmond, Pierce McClendon, Hunter Whatley, Tyler Stephenson, and Bijoychandra S Takhellambam. The faculty that provided support to this project were George Vellidis (University of Georgia), Thorsten Knappenberger (Auburn University), Kip Balkcom (USDA-ARS), and Andres F. Jiménez-López (Universidad de los Llanos, Colombia). We also acknowledge the great support and commitment from the employees of the Farm Services Unit of the E. V. Smith Research Center, a part of the Alabama Agricultural Experiment Station. Industry representatives who provided technical assistance and support to the project were Rick Heard (Advanced Ag. Systems), Martin Saylor (FieldNET advisor, Lindsay), Glenn McLendon (Lindsay), Dough Parrish (New Market Ag), Mike Mill (Reinke), and Blake Reid (Reid Bros Irrigation & Equipment Co. LLC).
New October 2021, Increasing Adoption of Climate- & Water-Smart Irrigation Practices Among Tennessee Valley Farmers in Alabama & Tennessee: Findings and Lessons Learned, ANR-2776
New October 2021, Increasing Adoption of Climate- & Water-Smart Irrigation Practices Among Tennessee Valley Farmers in Alabama & Tennessee: Findings and Lessons Learned (2017-2021), ANR-2777