Animals
---
The Alabama Cooperative Extension System at Alabama A&M University (AAMU) established a goat browsing demonstration study on forested land near the small ruminant training site at AAMU's Agribition Center. This demonstration project served as a live educational tool to reach new and established underserved audiences, especially forest owners and meat goat producers with no previous or limited knowledge of agriculture or forestry.
This collaborative Alabama Extension demonstration project is funded by the United States Department of Agriculture's National Institute of Food and Agriculture (USDA-NIFA). This 3-year demonstration project began in 2019. The first phase was completed in December 2020.
Project Goals
Increase awareness of agroforestry's economic, social, and environmental benefits to farmers and forest landowners on small and medium-sized farms.
Educate stakeholders about factors that lead to successful meat goat enterprises. Factors include revenue generated by carcass weights, average weight gain, and lower death rates caused by internal parasitism.
Educate producers about developing an operating cost budget, including all the variables that affect value and the total income generated to calculate the break-even point.
Educate producers on how to determine the in-out price analysis level that is required to cover the cost of producing goat meat under forestland management.
Inform producers about goat browsing, controlled soil erosion, and how to improve soil fertility through carbon and nitrogen recycling.
Second Phase
The second phase of this project began with the acquisition of 54 Kiko bucklings in early July of 2021 from a registered Kiko goat producer in Kentucky. The goats were transported to the Agribition Center. This location is situated in the Huntsville metropolitan area. Upon arrival and acclimation period, the bucklings were divided into groups of high and low stocking densities. High stocking groups consisted of ten bucklings per acre, while the low stocking density consisted of five bucklings per acre.
After bucklings were introduced to browse the forestland, constant monitoring of vegetation was conducted to minimize the possibility of overbrowsing. Overbrowsing or overgrazing can increase the exposure of goats to harmful parasites.
The periodic rotation and management of goats in this project required the support of several key personnel. One way to support the program was by training students to assist with daily tasks. This allowed students to gain firsthand experience in small ruminant production as well as proper research techniques. Daily student tasks involved managing water and food supplements and identifying obvious health issues, such as weight loss, behavioral changes, or diarrhea. More specialized tasks included sampling techniques, identifying understory, midstory and herbaceous plants, assessment of vegetation variables, collecting samples for nutritional value analysis, and monitoring goat browsing for plant preference. Additional data, such as body weights, FAMACHA score, scrotum girth, fecal samples, and blood samples of select animals were recorded. This data was routinely taken at two-week intervals for the duration of the project.
The second phase concluded in November of 2021 with the selling of animals at a livestock market to understand the economics of livestock production. The overall outcome from this demonstration provided valuable insight for the small ruminant team and producers around challenges and constraints related to goat production.
Research and Extension Team
Karnita Garner
– Forestry, Wildlife, and Natural Resources Specialist (Alabama Extension at AAMU)
Kozma Naka
 – Forestry and Biomass Harvesting, Timber (AAMU)
Valens Niyigena
– Animal Science Specialist (Alabama Extension at AAMU)
Zachary Senwo
 – Environmental, Soil and Water Sciences and Microbiology (AAMU)
Project Location
Winifred Thomas Agricultural Research Station (WTARS), 372 Walker Lane, Hazel Green, AL 35752
Contact Valens Niyigena for more information about the Meat Goat Demonstration Project.
Office: (256) 372-4983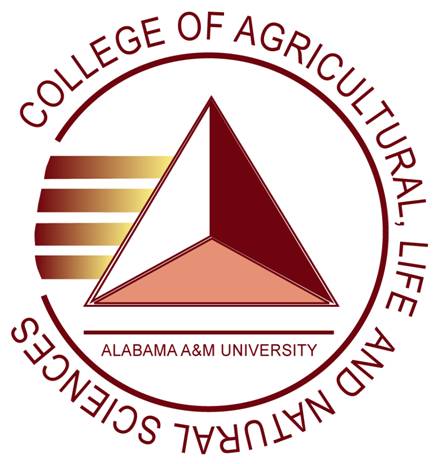 This project was made possible in part by the USDA. The USDA is an equal opportunity provider and employer.