Products & Programs
---
STEM and Nutrition Mobile Education Labs
April 19, 2022
Posted by: Andrea Morris and Angela Williams
In the spirit of early-day educational tools like the Jesup wagon, Alabama Cooperative Extension System at Alabama A&M University puts a modern twist on this form of education through the mobile education labs. These labs allow Extension specialists and agents to roll into communities all over the state to educate audiences of all ages. Currently, there are two mobile education labs at work: the STEM (science, technology, engineering, and mathematics) lab and the nutrition lab. Both labs allow educators to reach underserved populations and advance key STEM and health objectives that are critical to Alabama residents. These labs are both funded by the United States Department of Agriculture (USDA).
---
STEM Lab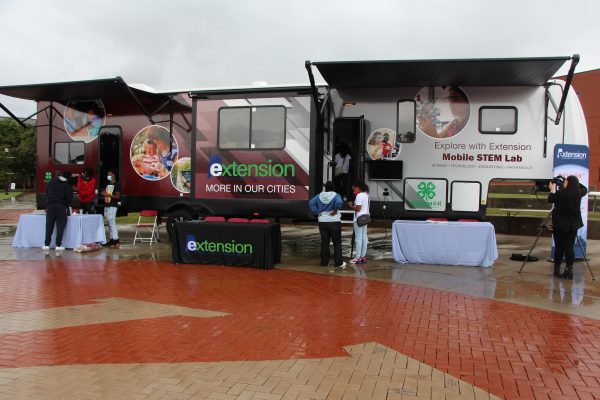 The mobile STEM lab introduces real-world, hands-on learning experiences in science, technology, engineering, and mathematics to youth ages 5 to 18. The lab's goal is to inspire the next generation of scientists, engineers, and innovators to solve the global challenges of today and tomorrow.
The 36-foot unit is equipped with multiple smart TVs, laptops, and a variety of lab equipment for fun, hands-on experiments, which integrate engineering design, mathematics, and scientific inquiry. All of the activities are focused on problem-based learning with real-world applications that align with the Next Generation Science Standards (NGSS), Common Core State Standards, and the Alabama Course of Study. The STEM lab lessons are centered around topic areas such as:
electronics
computer skills
catapults and launch angles
robotics programming
coding
electrical circuits
DNA analysis
Contact
Angela Williams

Office: (256) 372-5713

Email: arw0033@aces.edu
---
Nutrition Lab
The nutrition lab lessons open to all audiences are centered around topic areas such as:
general nutrition
meal planning
reading food labels
wise food purchases
The lab also features lessons that are targeted specifically to youth kindergarten through 2nd grade and 3rd through 5th grades. These lessons include:
snacking on fruits and vegetables
limiting screen time
low-salt snacking
balancing food consumption and physical activity
Contact
Andrea Morris

Office: (256) 372-8082

Email: morrian@aces.edu
---
Scheduling a Mobile Lab Event
Organizations can schedule a mobile education lab event in their community by completing the form below. Note. Extension educators ask that the requesting organization supply of minimum of three volunteers to help with the programming for both the STEM and Nutrition mobile labs. When requesting both labs for the same event, the organization will need to supply at least six volunteers.
These labs were funded in part by USDA-NIFA. The USDA is an equal opportunity employer.