Outdoor Education
---
Project WILD
November 10, 2018
Posted by: Emily Nichols; Doyle Keasal
In the fall of 2017, Alabama Extension became the Project WILD coordinating organization for the state of Alabama in partnership with the Association of Fish and Wildlife Agencies.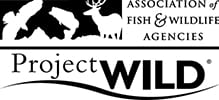 Project WILD is one of the most widely used and recognized programs among K–12 educators. It focuses on conservation, environmental challenges, and the need for humans to develop as responsible citizens of the planet. Based on this premise that young people and educators have a vital interest in learning about the natural world, Project WILD teaches youth about wildlife and habitat, aquatic ecology, civics, conservation, field investigations, and natural history.
The activities found in Project WILD instructional materials are intended for use in both classroom and informal settings and are designed to support state and national academic standards appropriate for grades K–12. Activity Guides include Project WILD K–12, Aquatic WILD, Science & Civics, Proyecto WILD (Spanish), Flying WILD, and Growing Up WILD. Alabama 4-H offers educator and facilitator training for adults who want to use Project WILD materials.
Upcoming Workshops
For additional information about Project WILD, visit http://www.projectwild.org/aboutus.htm.
For questions about accessibility or to request accommodations, contact Extension Communications and Marketing at 334-844-5696 or extcomm@aces.edu.