Lawn & Garden
---
Alabama Gardener's Calendar – June
June 1, 2020
Posted by: Kerry Smith, Frances Sledge, Dave Williams, and Ron Shumack
Learn—month by month—the necessary gardening activities for lawns and shrubs, annuals and perennials, fruit and nut trees, and bulbs, roots, and tubers. Included is a timeline for activities such as soil testing, planting, pruning, fertilizing, pruning, mulching, indoor plantings—from cauliflower to okra, from camellias to dahlias to heirloom roses.
Fruits and Nuts
Layer grapes and continue spray programs.
Thin apples and peaches if too thick.
Shrubs
Lace bugs may be a problem on azaleas, pyracanthas, dogwoods, cherry laurels, and other shrubs.
Water as needed. Fertilize now.
Keep long shoots from developing by pinching out tips.
Take cuttings from semi-mature wood for rooting.
Lawns
Apply 1 pound nitrogen per 1,000 square feet to bermudagrass and St. Augustinegrass. Skip this month for fertilizing centipedegrass and zoysiagrass.
If dollar spot disease is detected, reduce water and fertilizer
Mow often (5 to 10 days) to remove just 1/3 the grass height at each mowing.
Water lawns as needed (grayish color or curling leaf blades).
Planting may continue if soil is moist.
Annuals and Perennials
Keep old flower heads removed to promote continued flowering. Plant garden mums if not already in.
For compact mums, keep tips pinched out.
Monitor for insects and diseases.
Fertilize with water-soluble fertilizer for a mid-season boost.
Bulbs
Foliage may be removed from spring bulbs if it has yellowed and is becoming dry.
Watch for aphids and thrips on summer bulbs.
Miscellaneous
If scale insects continue on shrubs, use materials other than oils.
Set house plants on porch or outdoors in shade and pay close attention to the need for water.
If desired, air layer house plants.
Vegetable Seeds
Whole state: Continue plantings of beans, sweet corn, southern peas, melons, and okra.
Vegetable Transplants
Whole state: Continue planting April transplant crops.
Questions?
Call the Master Gardener Helpline at (877) 252-4769. A Master Gardener Extension volunteer is waiting to answer your call.
See other months from Alabama Gardener's Calendar at www.aces.edu.
---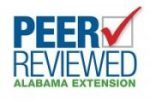 Kerry Smith, Extension Associate, Horticulture, Frances Sledge, Horticulture Intern Auburn University. Originally prepared by Dave Williams, former Extension Horticulturist, and Ron Shumack, former Extension Horticulturist.
Reviewed July 2022, Alabama Gardener's Calendar – June, ANR-2618