Lawn & Garden
---
Alabama Gardener's Calendar – December
June 1, 2020
Posted by: Kerry Smith, Frances Sledge, Dave Williams, and Ron Shumack
Learn—month by month—the necessary gardening activities for lawns and shrubs, annuals and perennials, fruit and nut trees, and bulbs, roots, and tubers. Included is a timeline for activities such as soil testing, planting, pruning, fertilizing, pruning, mulching, indoor plantings—from cauliflower to okra, from camellias to dahlias to heirloom roses.
Fruits and Nuts
Plant young pecan and other deciduous fruit trees and grapes.
Select budwood.
Start dormant pruning of established fruits.
Protect all young trees from rabbit damage by placing wire around the base of the tree.
Put on dormant oil spays for scale.
Shrubs
Planting is still the main activity but delay in case of freezing weather.
Get your soil tested and be prepared for spring gardening.
Lawns
Perform a soil test to determine if limestone is recommended and apply it any time this month.
Dig out wild garlic, chickweed, Poa annua, dandelion, and other winter weeds.
Roses
Add plants to rose garden.
Mulch all plantings.
Annuals and Perennials
Plant hardy annual seed without delay. Have you thought about violas?
Bulbs
Continue spring bulb planting.
Miscellaneous
Shrubs, trees, and indoor plants make excellent gifts.
Questions?
Call the Master Gardener Helpline at (877) 252-4769. A Master Gardener Extension volunteer is waiting to answer your call.
See other months from Alabama Gardener's Calendar at www.aces.edu.
---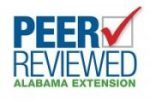 Kerry Smith, Extension Associate, Horticulture, Frances Sledge, Horticulture Intern Auburn University. Originally prepared by Dave Williams, former Extension Horticulturist, and Ron Shumack, former Extension Horticulturist.
New May 2020, Alabama Gardener's Calendar – December, ANR-2624