Health & Nutrition
---
Urban EFNEP
January 10, 2019
Posted by: Andrea Morris
Resource for youth & mothers of young children. Participants learn how to prepare healthy snacks & meals and tips to stay active as a family. Urban EFNEP (Expanded Food and Nutrition Education Program) is geared towards limited-resource Hispanic mothers with children under five, teaching them how to consume healthy foods on a limited budget and encouraging daily physical activity for the whole family.
What is Urban EFNEP?
EFNEP

is the acronym for Expanded Food & Nutrition Education Program.

Urban EFNEP is an education program for youth ages 6-14 and mothers with children under the age of five.

Classes are offered in English & Spanish. The lessons are filled with hands-on activities with real-world examples offering a fun and engaging way to learn about nutrition.
What are the goals of Urban EFNEP?
Help families stretch their food dollars
Encourage people to eat more fruits and vegetables
Encourage families to incorporate daily physical activities into their lifestyles while having fun
Describe how to prepare, serve, and store food safely
Promote good health and fitness through nutrition and wellness
Urban EFNEP participants will learn:
Basic nutrition and how to plan healthier meals and snacks to encourage healthy eating habits
How to make wise food choices
How to prepare healthy meals for babies, young children, and youth
How to apply food safety skills when purchasing, preparing, cooking, and storing foods
Smart shopping techniques
How to make healthy snacks and recipes through hands-on cooking demonstrations
Nutrition Education on the Move Bus
The Nutrition Education on the Move bus travels into communities to provide nutrition classes.
The bus is equipped with a fully functional mini kitchen for food & handwashing demonstrations.
Participant seating and a presentation area make the unit ideal for class instruction and exhibits at schools, health fairs, and other community events.
Contact Us
Alabama Extension serves all 67 Alabama counties. If your county isn't listed below, contact the nearest county on the list or the program Specialist in the State Office.
State Office – Health and Nutrition Specialist, Urban EFNEP Program Manager, Andrea Morris
Office: (256) 372-8082 Email: morrian@aces.edu
Marshall County Extension Office – Urban EFNEP Program Coordinator, Alicia Heathington
Office: (256) 293-2537 E-mail: amh0265@aces.edu
Urban Centers - Urban EFNEP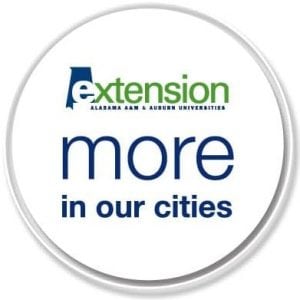 Thank you, USDA NIFA. Urban EFNEP is funded by United States Department of Agriculture's National Institute of Food and Agriculture (USDA NIFA). USDA is an equal opportunity provider and employer.
Read the USDA Nondiscrimination Statement here.