Forages
---
Hay barn fires occur every year and are quite common. A fire can cost a farmer thousands of dollars in damages to buildings, hay, and equipment.
Moisture Levels
There are several risk factors that can contribute to a hay fire. However, proper moisture levels at baling is the single biggest risk factor. Maintaining forage moisture levels at 15 percent or less at baling will lead to minimal fire risk. The risk of fire increases significantly at 18 percent moisture and continues to increase with higher levels of moisture.
Moisture Levels of Hay
| Moisture Level % | Comments |
| --- | --- |
| Less than 10 | Hay may be brittle and dry. |
| 10 - 15 | Recommended moisture. Least risk of fire. |
| 16 - 20 | Could mold without preservative. Slight fire risk. |
| 21 - 25 | Will likely mold without preservative. Moderate fire risk. |
| More than 25 | Severe heat damage. High fire risk. |
Bale Temperatures
Heat within a bale is produced from bacterial and plant respiration after the baling process. Spontaneous combustion involves both microbial growth and chemical changes and may develop slowly.
Hay bales become a fire hazard when the temperature inside the bale increases beyond 140°F. Once the hay bale temperature reaches approximately 150°F, the temperature will not decrease, and spontaneous combustion is imminent. The larger and more dense the haystack is, the longer it may take to show signs of internal bale burning. Note that internal bale temperature may take several weeks before reaching 150°F.
Levels of Risk for Hay Fire
| Temperature °F | Note | Level of Risk |
| --- | --- | --- |
| 100 - 120 | No action needs to be taken | No Risk |
| 120 - 130 | Monitor bale temperatures daily. | Moderate Risk |
| 140 | Consider tearing stacks down. Continue to monitor bale temperature. | High Risk |
| 150 - 160 | Dangerous. Call fire department. Do not open the stack until they arrive. | Extreme Risk |
| 160 - 180 | Stack will have smoldering pockets and hot spots. Gases will ignite once the hay is exposed to air. | Extreme Risk |
| 212 | Point of no return. | Extreme Risk |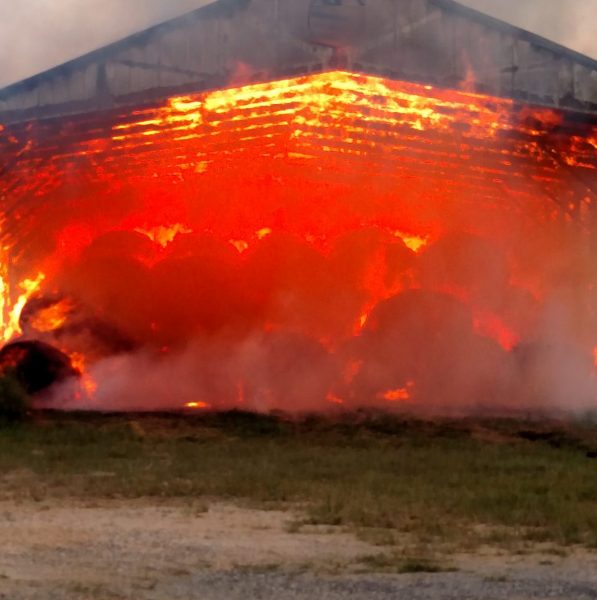 Some heating will naturally occur with low moisture levels. It is possible for properly cured hay to reach 120°F within the first few days after baling. This hay only becomes a potential fire hazard when those internal temperatures do not cool off after the first "sweat."
Even if the hay does not catch fire, heat will reduce the quality of the hay. Heat build-up will cause the protein to bind to fiber, making the protein unavailable for livestock. At only 120 to 130°F, 10 to 30 percent of protein will be lost.
High moisture forage baled as dry hay will also become moldy, possibly producing toxins. Livestock consuming this hay are likely to have respiratory and/or gastric complications, with the possibility of death as a result.
Baling During a Wet Harvest Season
Sometimes baling high moisture hay is unavoidable. In this case, there are several methods farmers can use to mitigate the problem.
Conditioning Hay
Most modern hay mowers use a disc-style cutting head with knives on each disc. It is common to see these mowers listed as conditioners because of the addition of twin rolls or flails behind the cutting head. These mower conditioners are usually offered as a trailed implement, not as a three-point hitch attachment.
Interlocking rolls smash and/or break the plant stems, while flails rub away the waxy surface of the plant and break stems. Both processes can improve drying time. However, the forage species being harvested should determine which method is best for your operation. For example, summer annual grasses with large stems might be better suited to the roll-style conditioning action.
Hay Preservatives
Hay preservatives are chemical conditioners that are sprayed at baling. This management practice requires adding application equipment to the baler. Farmers also have to have the proper calibration set to ensure the correct rate is applied. The chemical treats the waxy surface of the plant to allow moisture to freely escape. If using an organic, acid-based preservative, make sure it is buffered to reduce equipment damage. For guidance in purchasing hay preservatives, contact your local Alabama Extension animal science and forage regional agent.
Make High-Moisture Baleage
Advances in forage harvesting equipment have led to an increase in the volume of baleage/haylage produced in Alabama. In times of excessive rainfall, there may not be a long enough string of sufficient sunny weather to dry hay correctly. Instead of waiting for this long string of sunny weather and experiencing a significant decline in hay quality, farmers can instead utilize shorter times of clear weather and harvest high quality baleage. More information on baleage production is available in the Alabama Extension publication Producing & Feeding Baleage in Alabama.
Storing Hay
For any hay that is suspect, store it outside in loose stacks or rows between four and six weeks. This will allow for easier access to check bale temperatures, but will also allow increased air circulation. Also, in the event this hay does catch fire, the losses will be minimal. Note that rainfall may cause the hay to become unsuitable to be stored in a barn.
For more information on hay storage and feeding, go to www.alabamaforages.com or visit your county Extension office.