Family Resources
---
Enrolling in 4HOnline
September 26, 2018
Posted by: Nancy Alexander
Setting Up a Profile
You will be required to set up a family profile in 4HOnline, the online Alabama 4-H enrollment and event registration program. The family profile will be where members enroll. The website can be found at https://al.4honline.com.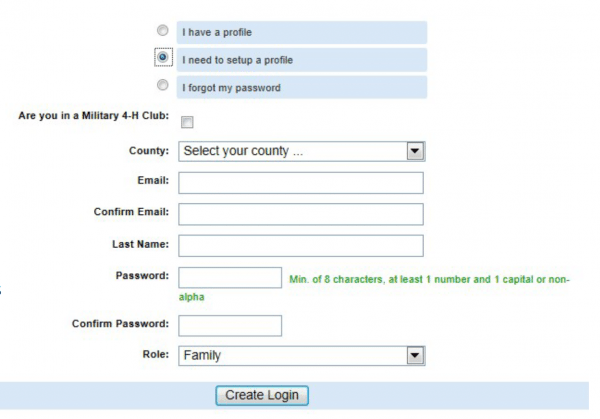 1. If you need to create a family profile, select I need to set up a profile. Complete the fields required and click Create Login. What happens if it says User account already exists? This means a family profile exists with your email address because your child was already enrolled through their school 4-H program. Select I forgot my password and a new password will be emailed to the email address on file. Then follow the steps here on the tip sheet, Re-Enrolling in 4HOnline.
2. Follow the instructions on the Family Information page and click Continue. Set up only one family profile per household. After adding the family, add your family members to that family profile. Use the following to determine the type of membership to add:
Adult: 4-H volunteers; only adult records should belong to 4-H volunteers.
Contact: Adults who are not screened volunteers and youth under the age of 5. This option is to be used only when registering for an event.
Youth: 4-H youth between the ages of 9 and 18 who are involved in a 4-H program.
For adults and youth, the next pages are authorization releases and health forms for risk management. These are important to have completed in case you get injured at a club meeting or 4-H event. If you have questions or concerns when filling out the forms, contact your local Extension office.
When adding a club, select the club from the drop down and click Add Club to save the selected club. Repeat the same steps to choose your project(s).
Note: Each 4-H youth member must have at least one club to be marked active. If you are unsure which to select, contact your local Extension office. You can add up to eight projects for each youth.
Click Submit Enrollment to send to your local county for activation.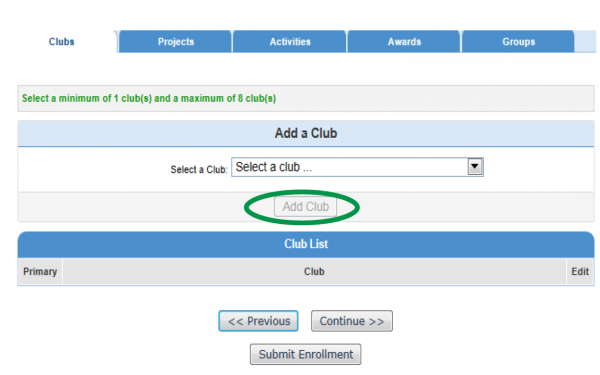 Click here to download the Enrolling in 4HOnline tipsheet. Click here to quickly generate your 4-H age and check your eligibility.
For questions about accessibility or to request accommodations, contact Extension Communications and Marketing at 334-844-5696 or extcomm@aces.edu.