Emergency Handbook
---
Caring for Trees: Hiring an Arborist
December 11, 2018
Posted by: Beau Brodbeck and Jack Rowe
If you have storm-damaged trees, you may need to hire an arborist. Unskilled work often results in damage or structural weakness the tree will keep throughout its existence. Unskilled tree work, such as topping or excessive limbing up, often causes tree problems including excessive regrowth or decay due to overpruning. These problems require repeated tree work that would not have been necessary. This creates additional costs over the now shortened life of the tree. The skill level of the person hired will dictate the safety and longevity of your tree.

What Is Arboriculture and What Do Arborists Do?
Arboriculture is the art and science of tree care. An arborist is a professional tree care worker who understands arboriculture and has experience in its use. A person can learn the science, but applying it requires long-term instruction from experienced arborists. Becoming an arborist is like an apprenticeship.
Most professional arborists are members of the International Society of Arboriculture (ISA). The ISA works hard to educate its members and ensure that up-to-date science and skills are spread to the profession as quickly as possible. Membership in professional arboriculture organizations is a good sign that the people you are hiring know something about what they are selling.
What to Look For
Find out if they are members of professional organizations such as these:
If possible, hire an International Society of Arboriculture Certified Arborist. This is more than just a credential. Obtaining a Certified Arborist license requires the applicant to pass an examination covering 12 domains of knowledge about trees and tree care. People with this certification are more likely to be knowledgeable about tree biology, tree care, and the best methods to use. Usually the logo is displayed, and Certified Arborists carry their membership card showing the license number.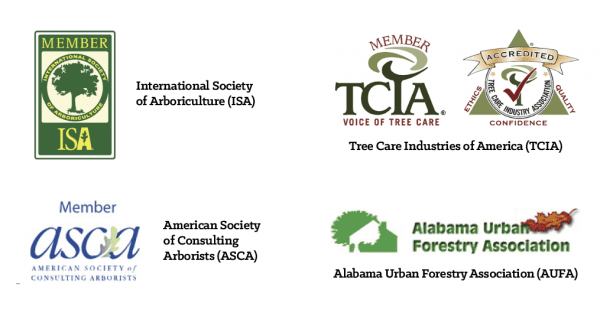 The State of Alabama also requires anyone performing tree work to pass a written examination to obtain an Alabama tree surgery license. If the tree service provider is working without this license, fines and potential jail time can be levied against him or her. Some municipalities also require tree service companies to obtain registration or permits before doing any tree work within their boundaries. These permits and licenses are usually displayed, discussed, or shown when you speak with the arborists. If they aren't, request them. If the tree service you are speaking with doesn't have these licenses, decline their service.
Ask for some references with phone numbers you can call. A good arborist and businessperson will provide these for you.
Ask for the work proposal in writing. This is usual business practice. Most companies, even small ones, will have a form for on-site proposals. The proposal of work should have a description of what they'll be doing, when they'll be doing it, and the costs with the arborist's signature and expectations of payment.
A professional will plan the work and schedule it; expect no less. Hiring tree work shouldn't be a terrible chore. Arboriculture professionals are usually knowledgeable and happy to provide an estimate.
Working with Professionals
Ask for arborists' proof of insurance. The words "Licensed and Bonded" are usually displayed or discussed openly by professional tree services and arborists. They should have personal, property, liability, and workers' compensation insurances. Call their insurer if you have a concern. If you have tree work done by an underinsured company and something unfortunate happens, you or your own insurance will be liable for the costs of damages. Hiring uninsured service providers leaves you, the purchaser, liable for any damages. This means that an uninsured tree service company will not be expected to reimburse you for damages without a civil suit to demand it.
Beau Brodbeck, Regional Extension Agent, Forestry, Wildlife and Natural Resource Management, and Jack Rowe, Extension Specialist, Community Forestry, Auburn University.
Use pesticides only according to the directions on the label. Follow all directions, precautions, and restrictions that are listed. Do not use pesticides on plants that are not listed on the label. Trade and brand names used are given for information purposes only. No guarantee, endorsement, or discrimination among comparable products is intended or implied by the Alabama Cooperative Extension System. This publication is for information purposes only and should not be a substitute for recommendations or treatment by a health care provider.