Home & Family
---
The Piggy Bank Project
July 17, 2020
Posted by: Renee' Vines
The Piggy Bank Project is designed for the entire family to have fun all while being creative. This project details how a person can create a piggy bank using a plastic bottle and their own creativity. Not only is it fun, but this project will also help children understand the importance of saving money at an early age. Saving a portion of their money will help them develop the habit of putting money back for the future, reinforcing the idea that the choices they make impact future decisions and success.
Also let the children know that they are not only having fun, but are also helping to reuse a material that is often not recycled or reused. According to National Geographic, globally there are more than one million plastic bottles sold every minute. In the United States, only 30 percent of plastic bottles are recycled.
Materials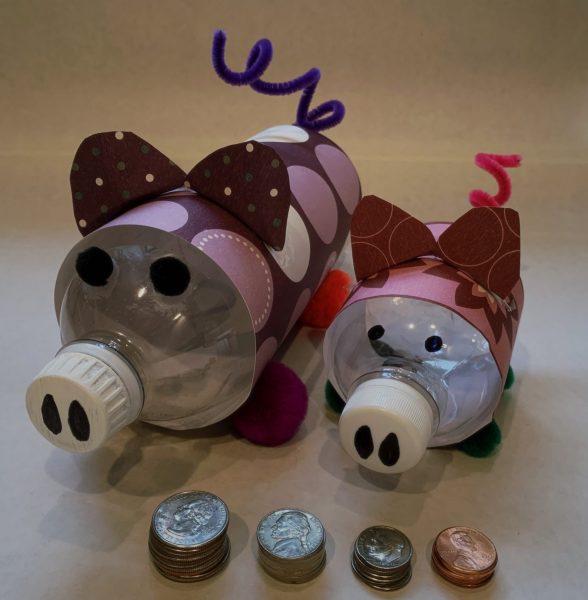 There are many creative ways to build a piggy bank. The following materials can serve as an inspiration to help people think of how they might get creative with their own piggy bank:
clear plastic bottle for the piggy bank/body of the pig
colored paper or felt for the ears and body decorations
materials to use for the feet (pompoms, beads, wooden balls, or marbles work great)
a marker to draw the nose and eyes (use googly eyes instead for a cute addition)
pipe cleaner, paper, ribbon, or item of choice to make the curly tail
tape, glue, and scissors
paint for decorating the bottle (optional)
Directions
Remove all the labels and cut a coin-sized rectangular hole in one side of the plastic bottle. (adult supervision needed)
Choose to either leave the bottle clear to see the coin collection progress or decorate the bottle.

You can decorate the bottle with paint or you can cut paper or felt to wrap the belly of the pig and tape or glue it to plastic bottle.

Choose what materials you want to use for the feet and glue those four pieces on the opposite side of the coin slot.
Using colored paper of your choice or felt, create two pig ears and tape them on the same side as the coin slot.
Use either markers or googly eyes to create the eyes. Use the marker to draw two dark circles on the bottle cap for the pig's nose.
Use pipe cleaner, ribbon, or paper to create a curly tail. Tape or glue it on to the back of the pig.
You now have your own piggy bank to drop your loose change into. Be sure to show off your project with friends and family and encourage them to create one too.
The Alabama Cooperative Extension System would also love to see your finished piggy bank. Email pictures of your Piggy Bank Project, along with your name and hometown, to Renee' Vines, an Alabama Extension regional agent, at phv0002@auburn.edu. You project may even be featured on the Alabama Human Sciences Extension Facebook page.