Home & Family
---
Right Bite: Healthy Substitutions
June 18, 2021
Posted by: Elaine Softley, Helen Jones, Shonda Miller, and Marilyn Agee
Learn how to cut fat and cholesterol from your diet as part of the Right Bite: Setting the Table for Healthy Eating series. Adults and teens will discover fun ways to make tasty changes to their diet and easy changes to their physical activity.
To substitute oil for solid fat in baking:
Cut the amount of fat by 1⁄4 to 1⁄3. Use that amount of oil.
Do not cut amount if original fat was melted.
If you must have butter flavor, use half butter and half oil.
Fat-Free Gravy
Refrigerate meat drippings and remove fat.
OR
Skim surface of drippings with ice wrapped in a paper towel to remove fat.
OR
Use a gravy separator and pour off fat-free liquid.
Mix cornstarch with a little cold liquid.
Add to fat-free dripping. Heat and stir continuously until thick
---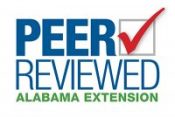 Elaine Softley, Helen Jones, Shonda Miller, and Marilyn Agee, all Regional Extension Agents, Human Nutrition, Diet, and Health, Auburn University
New June 2021, Right Bite: Substituting for Oil & Gravy, FCS-2490