Home & Family
---
Right Bite: Cutting Fat & Cholesterol
June 18, 2021
Posted by: Elaine Softley, Helen Jones, Shonda Miller, and Marilyn Agee
Learn how to cut fat and cholesterol from your diet as part of the Right Bite: Setting the Table for Healthy Eating series. Adults and teens will discover fun ways to make tasty changes to their diet and easy changes to their physical activity.
Use nonstick vegetable sprays.
Use nonstick pans.
Try margarine containing plant sterols and stanols.
Use fat-free and reduced-fat salad dressings and mayonnaise.
Use lean cuts of meat, skinless poultry, fish, and seafood.
Use nonfat and reduced-fat dairy foods.
Use evaporated skim milk instead of cream.
Use 2 egg whites or 1⁄4 cup egg for each whole egg.
Chill soups and stews to remove fat.
Drain and rinse ground beef in a colander.
Bake, broil, grill, boil, and microwave instead of frying.
Cut fat in recipes by one-fourth or one-third.
Season vegetables with fat-free low-sodium broth or bouillon.
---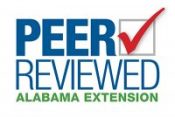 Elaine Softley, Helen Jones, Shonda Miller, and Marilyn Agee, all Regional Extension Agents, Human Nutrition, Diet, and Health, Auburn University
New June 2021, Right Bite: Consuming the Right Fats, But not too Much, FCS-2535