Healthy Soils
---
Alabama Soils: Appalachian Plateau
Alabama is home to 6 different soil areas. The areas are divided based on soils with similar parent materials, or geological material. Although there are 6 major soil areas, each area includes hundreds of different soil series, or named soils. Generally, series names come from a geographical location near where a similar soil was first described.
Rocks such as limestone, sandstone, and shale were pushed up as the Appalachian Mountains formed to form the Appalachian Plateau region. Limestone is softer rock than sandstone and shale, and it weathers (dissolves) faster than sandstone. Therefore, over millions of years, areas underlain with limestone have sunken and formed valleys. Areas underlain with sandstone have remained Sandstone Plateaus.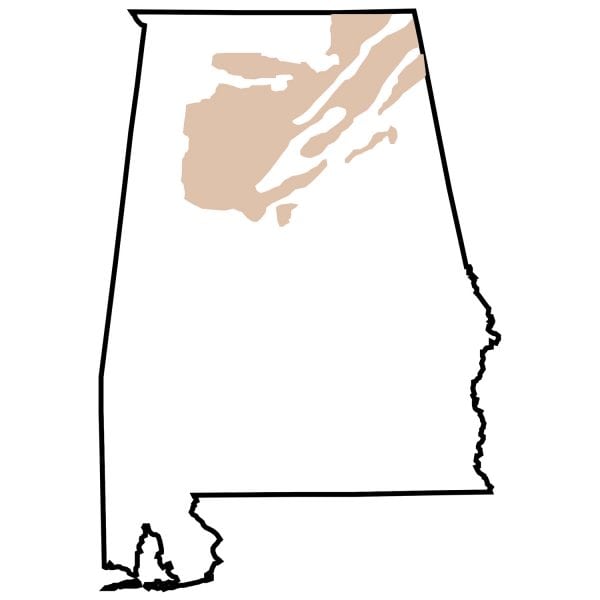 Characteristics:
Sandstone Plateau soils tend to be shallow.
These soils are well-drained.
Sandstone soils are acidic (because sandstone is an acidic rock) and low in nutrients.
Sandstone is mostly sand (silicone dioxide), which contains few plant nutrients.
Much of North Alabama is a region of limestone valleys and sandstone plateaus. Sand Mountain, in northeastern Alabama, is the best-known and largest sandstone plateau. It is part of the Cumberland Plateau. Lookout Mountain is also a sandstone plateau. The cities of Jasper, Cullman, Arab, Albertville, Boaz, and Rainsville all sit on sandstone and shale plateaus.
Considerations
These are some of Alabama's most environmentally sensitive soils. Anything put on or in these soils, such as septic tanks or animal manures, is subject to leaching toward bedrock and directly into the groundwater sources. Concerns about the quality of surface and groundwater have been expressed to do high rural populations, many small industries, and a huge animal-based agricultural industry. Major efforts are underway to protect watersheds, such as the Sand Mountain, Lake Guntersville, Bear Creek and Flint Creek watersheds.