Forestry
---
Why Do We Measure Forests?
Forestry field measurements are used to assess forests and are the basis for all aspects of forestland management. Without these measurements, landowners may make decisions about their forests and forestland based on limited knowledge of what is growing on their property and its value.
This handbook provides the basics of forest measurements and inventories, how and why they are taken, and how to interpret the results of those measurements. Applying the information will help landowners (1) understand the need for a forest inventory, (2) set goals and communicate more easily with natural resource professionals who assist them, and (3) understand the importance of a quality forest inventory conducted by a professional.
---
Index
Chapter 1: User's Guide outlines how the chapters are organized, equipment needs, and where to obtain equipment.
Chapter 2: Units of Measure & Distance includes information on how to use an engineer's scale when measuring distance on maps, and how to measure horizontal distance in the field.
Chapter 3: Determining Your Pace introduces the concept of measuring distances using pacing and procedures for determining your pace.
Chapter 4: Using a Compass explains how to use a compass and how to make magnetic declination adjustments.
Chapter 5: Understanding Property Legal Descriptions explains units of land area and procedures to read and understand land legal descriptions.
Chapter 6: Using Maps for Land Management introduces the use and importance of topographic (topo) maps in for forestland management.
Chapter 7: Measuring Tree Diameter covers proper tree diameter measurement techniques (diameter tape, Biltmore stick, and calipers), unique situations, and tree defects.
Chapter 8: Measuring Tree Heights covers proper tree height measurement techniques (clinometers and Merritt hypsometers), unique situations, and tree defects.
Chapter 9: Assessing Forests Using Plots introduces the importance of forest sampling along with potential forest attributes that may be sampled and mathematical principles to calculate plot size.
Chapter 10: Preparing for a Forest Inventory covers how to calculate percent inventory, plot layout prior to conducting a forest inventory, and making a tally card.
Chapter 11: Summarizing a Line-Plot Forest Inventory provides a step-by-step example of how to summarize a line-plot inventory using a sample dataset. It also includes trees-per- acre and tons-per-acre calculation examples.
Chapter 12: Basal Area covers how to estimate the square feet of basal area in a single tree and on a per-acre basis using a fixed radius plot.
Chapter 13: Using an Increment Borer offers techniques for sampling forest tree growth with an increment borer.
Chapter 14: Site Index & Crown Class covers the concept of site index and how to estimate it. Crown class definitions are given.
Chapter 15: Variable Radius or Prism Inventory covers use of a prism to estimate basal area, plot layout, how to properly complete a tally card, and basic calculations to estimate basal area and trees per acre.
Chapter 16: Stand & Stock Tables offers examples demonstrating their usefulness.
Chapter 17: Working with a Professional Forester summarizes how information presented in this workbook can help you better work with a land management professional.
Appendices include Appendix A: Diameter and Height Classes, Appendix B: Making Your Own Cruiser Stick, Appendix C: Preinventory Checklist, and Appendix D: Sample Tally Cards.
---
Videos
Chapter 2.1 – Using a Scale
---
Chapter 2.2 – Reading a Measuring Tape
---
Chapter 2.3 – Breaking Tape
---
Chapter 3.1 – Estimating Your Pace
---
Chapter 4.1 – Parts of a Compass
---
Chapter 4.2 – Adjusting Declination
---
Chapter 4.3 – Getting Direction with a Compass
---
Chapter 4.4 – How to Navigate with a Compass
---
Chapter 5.1 – Reading Legal Descriptions
---
Chapter 6.1 – Reading USGS Topomap Contour Lines
---
Chapter 6.2 – Getting Direction on a Map
---
Chapter 6.3 – Estimating Distance on a Map
---
Chapter 7.1 – Measuring DBH
---
Chapter 8.1 – Helpful Hints for Measuring Tree Height
---
Appendix B.1 – Making a Biltmore Stick
---
Appendix B.2 – Making Your Own Merritt Hypsometer
---
The information in this handbook is for educational purposes only. Reference to commercial products and/or trade names is made with the understanding that no discrimination is intended and no endorsement by the Alabama Cooperative Extension System or its partners is implied.
For a complete forest inventory, landowners should contact a registered consulting forester and/or their local state forestry commission office.
For questions about accessibility or to request accommodations, contact Extension Communications and Marketing at 334-844-5696 or extcomm@aces.edu.
---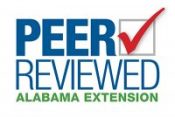 Becky Barlow, Extension Specialist, Professor; Adam Maggard, Extension Specialist, Assistant Professor; and John Kush, Retired, Auburn University; all with the School of Forestry and Wildlife Sciences at Auburn University
With support from Alabama Forests Forever Foundation and Bradley/Murphy Forestry and Natural Resources Extension Trust
Special thanks to Sarah Kirk, Kelly Knowles, and to Kate Barlow for her contribution to photos, graphics, and videos in this handbook. And thanks to Glenn Glover, retired Extension Specialist and Professor, for developing the initial content that was the inspiration for this book.
New January 2022, Forest Inventory Basics For Family Forest Landowners, FOR-2082