Food Safety
---
Brittle Heaven & More: A Story of Family, Faith and Extension
September 28, 2021
Posted by: Justin Miller
in Food Safety
AUBURN UNIVERSITY, Ala. – This is not a story about an aspiring chef with a recipe and a dream, looking to make their name in the culinary scene. No, the story of Sarah Deese is quite the opposite.
Owning and operating Brittle Heaven & More is not something Deese imagined herself doing. However, when life threw her a few curveballs, Deese looked to her childhood memories to begin her brittle-making journey. With her family, faith and a little help from the Alabama Cooperative Extension System, Brittle Heaven & More is quickly becoming a hot spot in St. Clair County.
A Family Recipe
Like many people in the South, the recipe for Deese's brittle was handed down through several family generations. Her mother Sadie taught her the art of making brittle. While no longer with her physically, her mother's memory lives on in the spirit of the business.
"When I was a teenager, my mother and I would make peanut brittle, but only at Christmas time," Deese said.
Deese's mother was also an inspiration for the Brittle Heaven & More logo. While growing up, Deese said there was a hand-painted saucer that always hung in her mother's kitchen. It had an image of a woman and her mother's name painted on it. The image of the woman, with an added halo, now serves as the face of the business.
"When we were thinking about a logo, my sister mentioned that plate," she said. "I grew up seeing the plate in the kitchen, and I wanted to bring my mother into the business somehow, so that was the perfect answer."
Life's Curveballs
Deese never saw herself selling brittle. However, after her son received an unexpected medical diagnosis, she turned to her childhood memories for help.
"Right after graduating from Auburn University, my son was diagnosed with ulcerative colitis," Deese said. "With student loans and now medical bills on top of them, I had to find a way to help him. That's when I thought I could start selling brittle."
Deese made contact with the health department to see what steps were necessary to take to make this happen. This is where help from Alabama Extension played a role.
Help from Extension
The health department directed Deese to Lee Ann Clark, the county Extension coordinator for St. Clair County. Clark knew after speaking with Deese that she needed to talk to Angela Treadaway, an Alabama Extension food safety and quality regional agent. Treadaway was able to introduce Deese to the world of cottage food.
"Sarah called me, and we talked for 20 to 30 minutes about her ideas," Treadaway said. "I suggested she start by getting her Cottage Food Law certification, and then see how her clientele built up and what kind of following she developed."
Deese received her certification and began looking for places to sell her brittle. Clark suggested she begin selling at the St. Clair County Farmers Market in Pell City.
"As a result of the Cottage Food Law course, Sarah learned that all of her products had to be labeled, but at that time she did not have the resources to do this," Clark said. "I gladly helped her with this task so she could start selling at the farmers market."
From the Home to a Storefront
With a delicious product in hand, Deese quickly started selling at multiple farmers markets, festivals and other venues. The success of her brittle grew like wildfire. She soon realized that selling in convenience stores was the next step for her. Once again, Extension was there to help with the process.
"Her business grew, and in less than one year she was taking the ServSafe food safety certification," Treadaway said. "This certification allowed her to sell commercially and gave her the ability to provide her products for some local businesses."
As part of the requirements to receive a commercial food processor's license, Deese had to move her business from her home kitchen to a commercial kitchen.
"I was lucky to be able to share a commercial kitchen with another local business," Deese said. "While this worked for a while, having to share a space sometimes made it difficult to make the candy. Soon, I started looking for a place to have my own commercial kitchen."
During this process, family, friends and others who enjoyed her brittle encouraged Deese to open a storefront. After much consideration, Brittle Heaven & More officially opened its location in Pell City in early September.
Brittle Heaven & More offers a variety of brittle options such as peanut, cashew and pecan. At the new store front, the business offers brittle, as well as other treats–such as cookies, brownies and even bread. In less than two years, Deese went from a woman who made brittle as a hobby to the owner of a thriving business.
"Sometimes, the demand for my brittle is more than I ever imagined," Deese said. "While keeping product on the shelves is hard, the people telling me how much they enjoy it inspires me to keep going."
Deese's Advice
For Deese, becoming a successful business owner didn't just happen overnight. It took a lot of planning and hard work to make it a reality.
"For those interested in doing something like this, just know that there is going to be a lot of hard work and long hours," Deese said. "If you aren't prepared for the high demand, you aren't going to make it."
Extension is Here for You
Alabama Extension is a ready partner for Alabama residents. Clark said the work they did with Deese is an example of how Extension professionals go above and beyond to help people in their communities.
"Sarah's story is a great example of how Extension educators can provide the tools their clients need to empower them to accomplish their goals," Clark said. "We are proud to have been with her since the beginning, providing the resources she needed on the road to her success."
Becoming a Cottage Food Processor and Beyond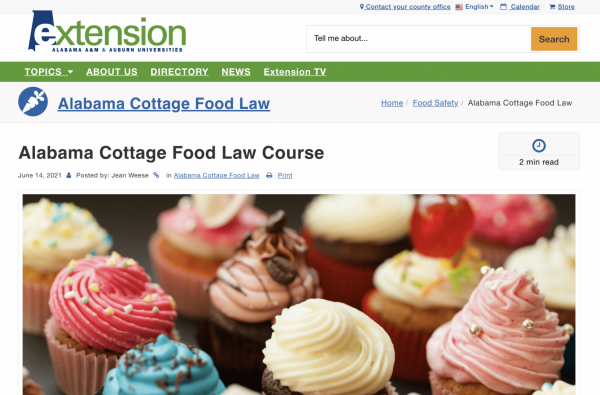 Many of today's popular food business owners got their start in a home kitchen. Alabamians Patricia Barnes, the owner of Sister Schubert's, and Stacy Brown, the owner of Chicken Salad Chick, are great examples of taking a home business and sharing it with the nation.
Many Alabama residents have obtained Cottage Food Law certifications to sell products from their homes. This certification is a great first step to owning a storefront if desired.
"The Cottage Food Law certification is great way to start selling foods like cakes, cookies and candies to see what kind of market you have," Treadaway said.
Becoming a cottage food processor allows people to see how clients react to their products. It also allows them to try different types of products to see what might could be taken a step further and turned into a business.
"If the business is there and you want to start selling in stores, food processing certifications, like ServSafe and the Better Process Control course, are available," Treadaway said.
More Information
Looking to get started? Alabama Extension has several resources that can help start the journey. Visit www.aces.edu to find resources on Alabama's Cottage Food Law. You can also like the Alabama Cooperative Extension Food Safety Facebook page for more information.