Fish & Water
---
Water Well Placement – Why Does it Matter?
June 4, 2021
Posted by: Jessica Curl and Laura Bell
in Fish & Water
Selecting a proper location for a well can help protect people from potentially harmful water contaminants. While many states regulate well set back requirements, the Alabama Department of Environmental Management (ADEM) does not explicitly regulate well spacing. However, the Water Well Standards Act of 1988 outlines the following location recommendations for water well placement on properties:
2 feet from projections or roofs of adjacent building
10 feet from secondary electrical services
75 feet from primary electrical services
100 feet from septic tank or field lines
150 feet from cesspool or storage lagoon
150 feet from livestock/pet shelters, feed storage facilities, or pesticide and fertilizer storage areas
Areas to Avoid
A well should never be placed downhill from or near a potential source of contamination, as the contaminants can seep into the groundwater. These areas include livestock yards, septic tanks, areas where chemicals are stored, among others.
Manure from animal storage shelters can contain harmful items such as coliform bacteria, total dissolved solids, and nitrate. These could find their way into a water source if the well is placed too close or downhill from the shelters.
Failing septic tanks can also contaminate drinking water, so septic field areas should also be avoided. The Alabama Department of Public Health requires that conventional septic system drain fields be at least 100 feet from a well.
Never store or mix any chemicals or other hazardous substances near a well, as this also increases the likelihood of contamination substantially.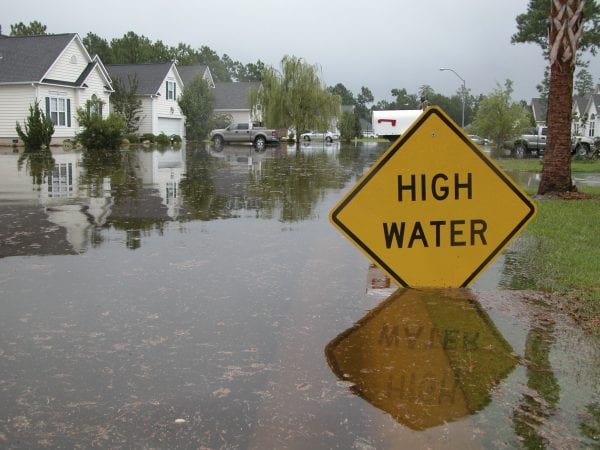 In addition to avoiding contaminated areas, the soil properties of the area also influences where a well should be placed. For example, heavy, sticky clay soils may restrict water movement and pollutant runoff, while thin, sandy soils may enable pollutants to travel farther through the soil profile because of their large pore spaces. Loamy soils that have a good mixture of sand, silt, and clay will have the best performance.
Also, extra precautions should be taken to ensure that a well is not being constructed in an area that is vulnerable to flooding, as this can lead to a surge of contaminants entering the water system. Visit the planned well location after a large-scale weather event to assess how the land drains. People can read about how to treat a water well after a flood in Flooded Wells: Shock Chlorination on the Alabama Extension website.
More Information
By taking simple steps to ensure the safety of their drinking water, people are avoiding physical and financial burdens to their household. For more information, visit the Private Well Program Webpage at www.aces.edu