Fish & Water
---
Commercial-Scale Catfish Fingerling Suppliers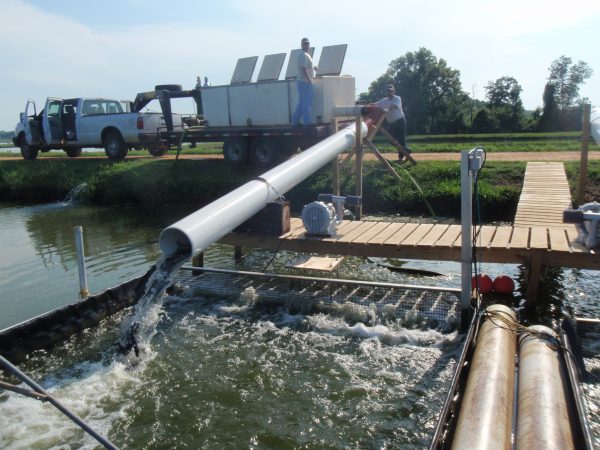 Following is a list of commercial-scale catfish fingerling suppliers for prospective catfish producers. The Alabama Cooperative Extension System and Auburn University do not endorse these individuals or companies or the services and products they provide. This is a partial list of supplies known to be available as of October 2021.
The large-scale catfish hatcheries that supply the United States farm-raised catfish industry are primarily located in Arkansas and Mississippi. The list below is for people wanting to purchase large quantities of channel or hybrid catfish for their commercial farming operations. Commercial-scale hatcheries produce and sell catfish fingerlings on a large scale as needed for larger catfish farms. For example, a commercial catfish farm may stock 8,000 to 10,000 fingerlings per acre, so a 10-acre pond might be stocked with 80,000 to 100,000 fingerlings. A commercial farm in west Alabama would have 250 to 500 water acres, so this one farm may order between 2 and 5 million fingerlings per year. Water is scarce in west Alabama where the commercial catfish industry is located, so there are no large-scale hatcheries in Alabama.
Arkansas
Baxter Land Company, Jeff Baxter, Dick Baxter, and Dalton Robinson
2710 Hwy. 1N, Watson, Arkansas 71674
Office (870) 644-3596
Office (870) 866-2806
Office (870) 866-2807
Fax (870) 644-3740
Hatchery (870) 877-2494
Specializes in hybrid catfish
Cain Fish Farm, Bari Cain
808 N. Edmunds Ave., McCrory, Arkansas 72101
Office (870) 731-5415
Office (800) 204-7172
Cell (870) 919-6000
Specializes in uniformly-graded catfish fingerlings that are only from Gold Kist and NWAC103 brooders
Catfish available year round, in-pond grader, all weather loading facility, and live delivery available
Mississippi
America's Catfish Inc., Solon Scott
P.O, Box 584, Itta Bena, Mississippi 38941
(662) 254-7200
Harvest Select, Jonathan Henderson (Hatchery Manager) and Steve Henderson (VP Farming Operations)
P.O .Box 560, Inverness, Mississippi 38754
(662) 704-0065
(334) 216-1911
Channel catfish fingerlings (4 to 8 inches), quality, experience, and integrity
Jubilee Farms, Inc., Wilson and Leigh Holland
1301 Bayou Drive, Indianola, Mississippi 38751
(662) 207-6078
(662) 207-1150
(662) 202-1875
(662) 445-2144
Hybrid catfish fingerlings
Need More Fisheries, Shorty Jones
1017 Greenfield Road, Glen Allan, Mississippi 38744
(662) 820-8330
Nobile Fish Farm, Will and Jerry Nobile
58 Jerry Nobile Road, Moorhead, Mississippi 38761
(662) 207-0362
(662) 207-1250
Quality fingerlings, stable pricing, and integrity
Quiver River Aquaculture Inc., Derenda Moyer
P.O. Box 187, Sunflower, Mississippi 38778
Cell (662) 515-2490
(662) 569-2545
Fax (662) 569-1545
Any size, from eggs to stockers
Aquavac-ESC vaccinated fingerlings available
Tackett Fish Farms, Jim Tackett
23939 County Road 523, Schlater, Mississippi 38952
(662) 254-7322
35+ years of industry experience
Quality fingerling – offers vaccinated and non-vaccinated in any size, from fry to 8-inch fish. Delivers healthy fish on every order. Accurate counts and uniform sizing. State of the art pond grading equipment and expert seine crews. Guarantee that customers gets exactly what they pay for.
T & D Fish Farm Inc
3 Choctaw Airport Road, Isola, Mississippi 38754
(662) 830-1234
The Fingerling Company, Austin and Andy Jones
P.O. Box 646, Moorhead, Mississippi 38761
(662) 246-5602
Wright Fish Farm, Robert Wright and Robert Wright IV
P.O. Box 146, Inverness, Mississippi 38753
(662) 207-5017
(662) 207-5305
hybridcatfish@telepak.net
rwright3@telepak.net
There are hatcheries in Alabama that supply a smaller number of fish species, such as sportfish, for recreational pond management. Visit www.aces.edu for a list of these recreational fish hatcheries and fingerling suppliers.