Beef
---
Transitioning to a Defined Calving Season
April 29, 2020
Posted by: Kim Mullenix, Michelle Elmore, and Soren Rodning
in Beef
Beef cattle operations that use a defined calving season can improve their economic and herd performance success. Learn steps to develop and maintain this management model.
A defined or controlled calving season involves managing a cow herd to calve within a relatively short time frame. In general, most producers with a defined season target a 60-to-90-day calving window to help keep cattle in a similar stage of production and provide ease of management for the herd.
Advantages of a Defined Calving Season
A More Uniform Calf Crop
Having more calves born early in a calving season increases the chances of improving an operation's income. Prolonged calf crops, on the other hand, mean less time for late calves to grow and gain weight before they are sold. In marketing groups of feeder calves, buyers will discount calves that are uneven in weight and age.
Better Nutritional Management
It is harder and more expensive to feed a herd properly when cows and heifers are calving over a period of several months and represent different stages of production. For example, cows that have recently calved and are nursing a calf have vastly different nutritional needs than cows that are pregnant or have already weaned a calf.
Improved Herd Management
It is easier to manage vaccinations, dehorning, castration, pregnancy examinations, and other routine management practices in herds with shorter calving seasons because cows will be in a similar stage of production and calves will be similar in age. Additionally, a defined calving window means that cows will calve relatively close together, which may ease the calving process from both a labor and monitoring standpoint.
Easier Identification of Reproductively Unsound Cattle
A defined calving season allows a beef producer to identify animals that routinely fall outside of the desired calving window. This aids producers in deciding which cows need to be culled or removed from the herd to benefit the operation.
More Accurate Record Keeping
Records can be used to track a variety of data on the performance of calves, dams, and sires. A defined calving season can make record keeping more effective. Once the calving season is over, calving records can be evaluated to review breeding season results.
Developing a Controlled Breeding/ Calving Season
Producers who want to convert from a year-round calving season to a controlled breeding season can choose between two methods: (1) hold open (nonpregnant) cows until the desired breeding window, which is a more abrupt method; or (2) use a 3-year program (tables 1, 2, and 3).
Consideration should be given to which of these two methods is the most economically viable. Abruptly transitioning to a defined breeding season is perhaps easier from a management standpoint, but it may create economic challenges as income derived from the sale of calves will be delayed for some amount of time.
Producers are encouraged to choose a calving season that best fits their operation based on production goals. In most year-round calving herds, a natural calving concentration already exists. Since pastures are usually at their nutritional peak in spring and early summer, a natural concentration of calving may occur in late winter and spring. No system of transitioning to a controlled breeding and calving season can eliminate the late breeders. However, by taking advantage of the natural concentration of calving in a herd, the problem can be minimized.
The following steps are suggested when starting the process to convert to a defined calving season:
Determine when the majority of cows in the herd will calve by pregnancy-checking all females exposed to bulls and staging those pregnancies by expected calving date. This also can be done by determining when the majority of calves were born the year before; however, pregnancy-checking is the best way to get started.
Set a goal for the specific length and dates of the final calving season desired. Tables 1 through 3 can be used to help you select a desired calving season and develop a plan for making the transition from a year-round to a defined calving season.
In the first year, adjust and shorten the current season by postponing breeding some cows and culling open cows and late calvers. To achieve the date range in which you want calves to be born, select the dates that the bulls will be introduced to and then removed from the cows and heifers. Use a 283-day gestation table to choose those dates.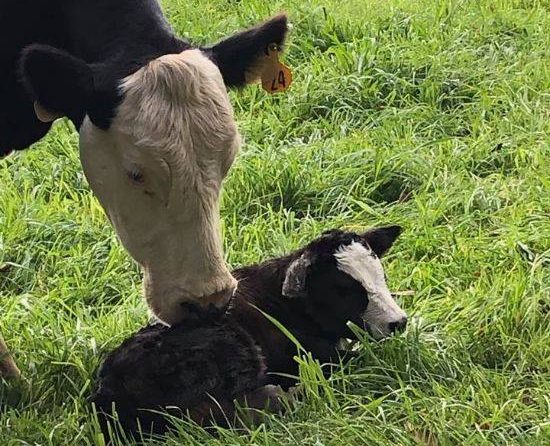 Breed replacement heifers 20 to 30 days ahead of the cows to give them additional time to recover after calving. Heifers that breed early in the breeding season are more likely to do so in subsequent years.
Forty-five to 90 days after removing the bulls from the herd, pregnancy-check all females and cull those that are not pregnant once their calves are weaned. Find options for conducting pregnancy exams in Beef Cow Pregnancy Examination (Extension publication ANR- 1417).
Maintain bulls in a separate area from the cow herd in the post-breeding season. Some producers may consider leasing bulls for the breeding window, which allows return of the bull(s) to the owner post-breeding. However, leasing bulls presents some potential health risks that need to be considered. Find information on mitigating these health risks in Maintaining Herd Health When Introducing a New Bull (Extension publication ANR-2268).
Shorten the breeding season by 3 to 4 weeks each year until your goal is reached. This usually can be accomplished in 3 to 4 years.
Table 1. Example of a 3-Year Plan for Converting From Year-Round to 90-Day Calving Season of October, November, December
| Year | Breed Heifers | Breed Cows | Breeding Ends Heifers | Breeding Ends Cows | Calving Begins Heifers | Calving Begins Cows | Calving Ends Heifers | Calving Ends Cows |
| --- | --- | --- | --- | --- | --- | --- | --- | --- |
| Year 1 (6 months breeding) | Nov. 23 | Dec. 13 | Jan. 23 | June 13 | Sept. 3 | Sept. 23 | Nov. 2 | Mar. 23 |
| Year 2 (4 1⁄2 months breeding) | Nov. 23 | Dec. 13 | Jan. 23 | Apr. 28 | Sept. 3 | Sept. 23 | Nov. 2 | Feb. 5 |
| Year 3 (3 months breeding) | Nov. 23 | Dec. 13 | Jan. 23 | Mar. 13 | Sept. 3 | Sept. 23 | Nov. 2 | Dec. 22 |
Table 2. Example of a 3-Year Plan for Converting From Year-Round to 90-Day Calving Season of January, February, March
| Year | Breed Heifers | Breed Cows | Breeding Ends Heifers | Breeding Ends Cows | Calving Begins Heifers | Calving Begins Cows | Calving Ends Heifers | Calving Ends Cows |
| --- | --- | --- | --- | --- | --- | --- | --- | --- |
| Year 1 (6 months breeding) | Mar. 1 | Mar. 22 | May 1 | Sept. 22 | Dec. 10 | Dec. 30 | Feb. 8 | July 2 |
| Year 2 (4 1⁄2 months breeding) | Mar. 1 | Mar. 22 | May 1 | Aug. 6 | Dec. 10 | Dec. 30 | Feb. 8 | May 16 |
| Year 3 (3 months breeding) | Mar. 1 | Mar. 22 | May 1 | June 22 | Dec. 10 | Dec. 30 | Feb. 8 | Mar. 31 |
Table 3. Example of a 3-Year Plan for Converting From Year-Round to 90-Day Calving Season of March, April, May
| Year | Breed Heifers | Breed Cows | Breeding Ends Heifers | Breeding Ends Cows | Calving Begins Heifers | Calving Begins Cows | Calving Ends Heifers | Calving Ends Cows |
| --- | --- | --- | --- | --- | --- | --- | --- | --- |
| Year 1 (6 months breeding) | Apr. 17 | May 8 | June 17 | Nov. 8 | Jan. 26 | Feb. 15 | Mar. 27 | Aug. 18 |
| Year 2 (4 1⁄2 months breeding) | Apr. 17 | May 8 | June 17 | Sept. 26 | Jan. 26 | Feb. 15 | Mar. 27 | July 6 |
| Year 3 (3 months breeding) | Apr. 17 | May 8 | June 17 | Aug. 5 | Jan. 26 | Feb. 15 | Mar. 27 | May 16 |