The Golden Egg Contest assesses the ability of 4-H members to raise chickens that produce high-quality eggs. Participants submit up to three sets of one dozen eggs, which are judged for uniform appearance and consistent interior quality using the same testing measures applied in commercial poultry production.
Who Can Participate
Alabama 4-H members who have a flock of chickens that are currently laying eggs. The chickens may be from a 4-H Chick Chain, Poultry Project, or other program source.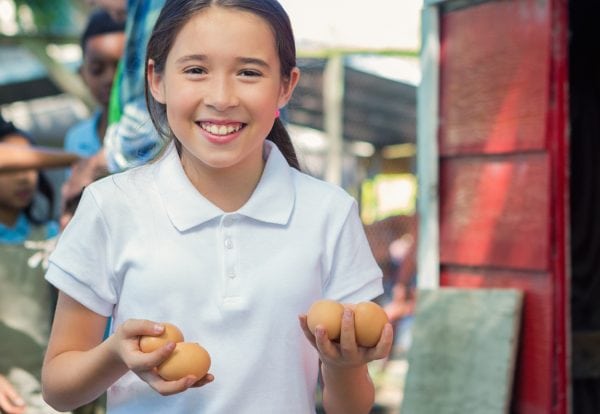 Entry Fee
$5 per dozen
Entry Categories
Age: Junior and Senior. 4-H is for youth ages 9 to 18. Junior age is 9-13 and Senior is 14-18.
Eggshell color: White, Brown, and Blue/Green
Egg size: Pee Wee, Small, Medium, Large, Extra Large, and Jumbo. Size is determined by the weight of one dozen eggs (any kitchen scale that shows weight in ounces can be used).
How to Enter
Participants may enter eggs in more than one category of eggshell color and size (for example, 1 dozen small white-shelled eggs and 1 dozen extra-large brown-shelled eggs). A separate registration form must be submitted for each dozen eggs entered. Form(s) must be mailed in prior to delivery. This lets us know who is participating and in what categories.
Submission Deadline
Eggs may be hand delivered or shipped via UPS. Each entry should include a 3 inch × 5 inch card labeled with your name, address, telephone number, email, the size of the eggs, and the eggshell color.
Packing and Shipping
Eggs should be kept cool during transit. Pack the eggs in an egg carton surrounded with padding and an ice pack, and placing them in a foam cooler. If shipping the eggs, it is important to use UPS, as they deliver directly to our offices. As soon as eggs are received, they will be refrigerated until judging begins.
To see all of the Alabama 4-H Golden Egg videos, visit the playlist on the Alabama Extension YouTube channel.
Golden Egg Contest materials:
For questions about accessibility or to request accommodations, contact Extension Communications and Marketing at 334-844-5696 or extcomm@aces.edu.