About Us
---
AUBURN UNIVERSITY, Ala. – When you walk through the doors of the Morgan County Extension office, you will meet the friendly face of Norma Gardner, the administrative support associate for the office. With her signature smile and warm personality, she is there to welcome you and help you find what you are looking for. While this may sound like a special occurrence, this type of interaction is what you will find in every Alabama county. Through a network of county offices, urban centers, diagnostic labs and more, the Alabama Cooperative Extension System has a friendly face in all 67 counties, ready to serve you.
What is a county Extension office?
Alabama Extension has two main headquarters, which are located on the campuses of Auburn and Alabama A&M universities. At these institutions, Extension professionals develop science-based information that aims to better Alabama homes, farms, people and communities. However, to get this information to the public, there must be a delivery system in place. That is where county Extension offices come into the picture.
Mike Phillips, Alabama Extension director, said people can think of a county office as their frontline access to county and statewide Extension resources.
"Our county offices are the front doors for providing science-based information in every county," Phillips said. "We are the local resource or connector to the resource statewide for both adult and youth audiences. If we don't know the answer, the likelihood is high that we can point you in the right direction."
Extension resources can include educational materials on a variety of topics, in-person programs and activities and even connections to other supporting institutions. No matter your issue or question, there are more than 600 Extension employees working in county Extension offices statewide that can help find the answer.
A Calling for Service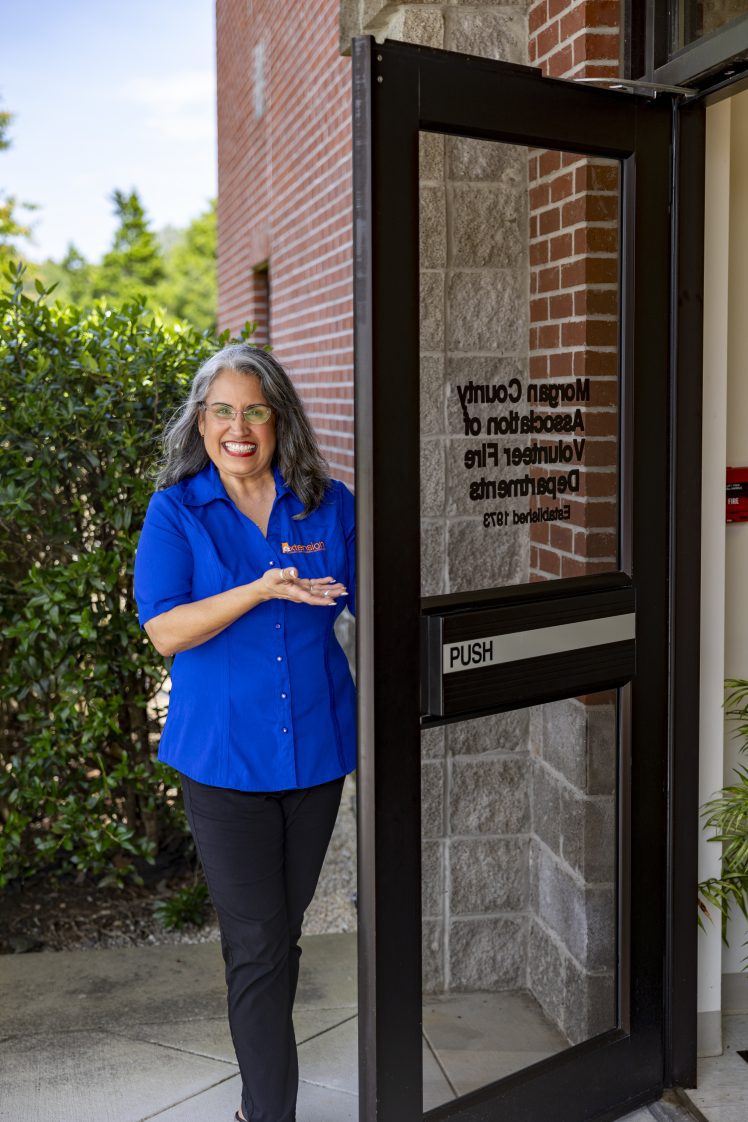 At the Morgan County Extension office, Gardner is a shining example of the help that you can get with Extension. Her main role is to help people find information on the many services that the office provides. She said her favorite thing about working in a county office is that she can serve her community.
"My calling is service," Gardner said. "It is what I like to do. I like to be able to help and support other people. With the many services that we provide here at Morgan County Extension, I am able to serve my community. For everyone that comes to this office, it is my job to make them feel welcome."
In addition to her official role with Extension, Gardner is also a certified Master Gardener volunteer. These volunteers are trained by Extension agents and specialists and then work to connect residents with information on a variety or gardening subjects. Gardner uses her experience as a Master Gardener to help answer gardening-related questions that people have when they visit the office.
Gardner is also fluent in both English and Spanish. While this is not a requirement for her job, she uses this ability to extend Extension resources to the Spanish-speaking community that is on the rise in her area.
"Here at Extension, we are trying to bridge the gap between languages," Gardner said. "The people in our community can come to the county Extension office because we have so many things to offer. We have many specialized agents that can help answer their questions."
Extension Was a Needed Change
In her former career, Gardner worked as a bilingual secretary. However, when she needed a change, she turned to Extension. Originally, she started working as administrative support in the Madison County office. While she enjoyed that position greatly, she could not turn down the opportunity to take on the same role in the community that she loves.
"I just really enjoy working for Extension," Gardner said. "Living only eight minutes from the office, I am so happy to be working in the community that I have been living in for the last 30 years. I hope that I will continue working here and serve the community for many years to come."
More Information
To connect with the county Extension office in your area, visit the Alabama Extension directory at www.aces.edu.