Extension's Alabama FAST Program Prepares Montgomery Students for the Future
by Justin Miller
AUBURN UNIVERSITY, Ala. — When you enter Kwan Robinson's classroom at LAMP High School in Montgomery, Alabama, you immediately know she is a teacher that cares about her students. From her warm personality to her soothing classroom environment, this AP English teacher is going the extra mile to create the perfect learning environment for her students.
"As someone that teaches seniors, I find it an honor and a privilege to prepare them for what happens after high school," Robinson said. "Sometimes, that requires doing something beyond my subject. I teach English, but I also teach students, so I want to make sure they are successful."
Discovering Alabama Extension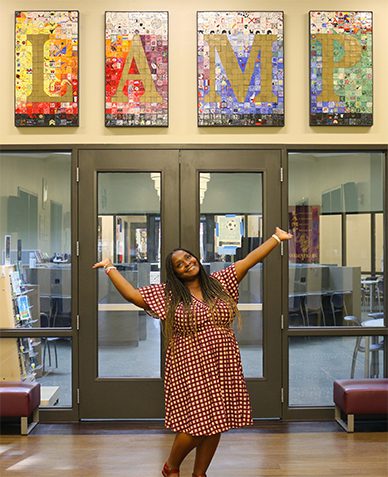 To help her students prepare for their futures, Robinson is always looking for information that is useful to them. This is what led her to the Alabama Cooperative Extension System. Robinson will be the first to tell you that she didn't know exactly what Extension was or what it did. However, after talking with Cynthia White, an Alabama Extension regional agent, she came to discover just how impactful Alabama Extension can be.
As a part of Extension's human sciences team, White specializes in the areas of financial resource management and workforce development. One of the workshops that she teaches is FAFSA Awareness: Ready, Set, Go, a part of the Alabama FAST program.
"Cynthia's daughter was one of my cheerleaders and students this past year," Robinson said. "We were talking at a game, and she told me what she did. I told her that was perfect because my seniors need to hear this information."
A Lack of Information
Oftentimes, affording a college education is one of the biggest hurdles that students look to overcome. The Free Application for Federal Student Aid – better known as FAFSA – gives students the opportunity to receive different forms of federal financial aid.
The FAFSA application process can be overwhelming, but that is where Alabama FAST can help. The program equips students, parents and educators with the information they need to make informed decisions about FAFSA.
"I really think Alabama FAST makes a difference," Robinson said. "Sometimes we don't have information readily available. So, programs like this broaden our perspective about what's available out there, as far as scholarships and financial opportunities." 
Alabama FAST in the Classroom
The main pillar of Alabama FAST features an online toolkit containing fact sheets, posters, an interactive decision quiz and more. This toolkit supports the classroom workshops that White and other regional Extension agents conduct throughout the state.
Many of Robinson's students had little knowledge of FAFSA and qualifying for financial aid. White said it was rewarding to see Alabama FAST help clarify some of those topics and give the students a better understanding of the process as they made their decisions.
"I thoroughly enjoyed working with the students at LAMP High School with the Alabama FAST curriculum," White said. "My passion is empowering individuals and families to make more informed financial choices, and this experience allowed me to do exactly that."
For Robinson, the experience of working with White and Alabama FAST changed not only the mindset of her students but also the way she presents information to them.
"Alabama FAST provided a lot of information to help my students be successful beyond high school," Robinson said. "That's a lot of what I do here, so the program has helped me be a better teacher for my students."
Extension is for Everyone
White's work with Robinson and the students at LAMP High School is just one of the many ways that Alabama Extension delivers solutions for life's everyday challenges. Extension educators are strong community partners, bringing practical ways to support homes, farms, people and communities.
"For all of those that don't know, Alabama Extension has something for everyone," Robinson said. "There are so many ways that anyone can plug in and learn more about whatever it is that they need to do to be successful."