Other Resources
---
ACES Water Program
February 5, 2021
Posted by: Laura Bell, Jessica Curl, Sara Bolds, and Eve Brantley
The ACES Water Program is an Extension, outreach and watershed planning program at Auburn University. The program is part of the Water Resource Center and housed in the Department of Crop, Soil and Environmental Sciences at Auburn University.
Headed by Dr. Eve Brantley and her outreach team, the goal of the water program is to make a positive impact on water quality issues throughout the state of Alabama through on-the-ground Extension and outreach, watershed resource planning, and education initiatives.
By empowering communities, farmers, cities, and schools to become better stewards of their water resources, the water program facilitates multi-year grant-funded projects that use a community-led, watershed-based approach to remediating impaired urban waters and planning for a more sustainable future.
What we do:
Apply for and implement grants with local stakeholders involved in identifying and addressing sources of water pollution in their area

Develop social and physical strategies to improve water quality 

Develop educational materials around water quality

Promote sustainable management of Alabama's water resources
Our People: 
Dr. Eve Brantley, Director of the Auburn University Water Resource Center and Extension Specialist 

Laura Bell, Water Programs Project Coordinator

Sara Bolds, Water Programs Project Coordinator

Jessica Curl, Water Programs Project Coordinator

Bethanie Hartzog, Student Assistant

Naomi Pitts, Student Assistant
Learn More About Our Programs and Projects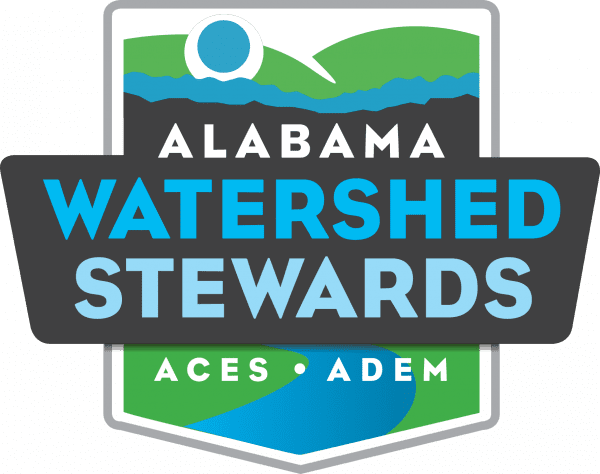 Alabama Watershed Stewards
About: AWS is a science-based educational program from the Alabama Cooperative Extension System and ADEM designed for the general public that promotes healthy watersheds, increases understanding of water pollution, and provides knowledge and tools to prevent and resolve local water quality problems.
Goal: The goal of the program is to deeply engage Alabama's citizens with the role they can play as stewards of their local environments, and to provide people with the tools they need to make a meaningful impact in their own watershed. 
Results: The AWS program offers an education curriculum and hands on training. The educational curriculum is offered as both virtual week-long, self-paced course and a 1-day in person course. The curriculum uses a combination of video lectures, discussions, and resources, to introduce participants to the basics of watershed function, water quality parameters and watershed impairments, best management practices for improving water quality, the role of community leadership and watershed planning, and more. The program also consists of more in depth training opportunities, including workshops on how to install rain gardens, conduct local litter pickups, install rain barrels, and information for designers and engineers on installing other green infrastructure practices. 
Learn more:

Sustainable Irrigation Expansion 
About:  The ACES Water Program partners with the USDA Natural Resources Conservation Service, Alabama Soil and Water Conservation Committee (SWCC) and University of Alabama in Huntsville to prepare watershed plans that inform the sustainable expansion of irrigation in selected watersheds. 
Goal: The goal of the watershed plans is to sustainably expand irrigation to farmers in Alabama through careful watershed planning. The plans must demonstrate that putting more acres under irrigation can be done in a manner that supports agriculture and rural economies while minimizing impacts to environmental and cultural resources. 
Results: The Middle Tennessee River Basin plan is approved and the Choctawhatchee-Pea Watersheds plan is in final draft form. Future watersheds to be addressed include the Middle Alabama watershed. Farmers interested in learning more about financial assistance available through this program should contact their local Soil and Water Conservation District office.

Private Well Program
About: The Alabama Private Well Program is an educational program funded by the Alabama Cooperative Extension System in 2020. In Alabama, groundwater is the primary source of drinking water for about 44 percent of the total population, equating to more than 2.1 million people. Of these, approximately 539,399-800,000 people, or 11-20 percent of the state population, depend on private water supplies, such as wells, for drinking water. Although a few online resources exist to assist Alabama well owners in maintaining safe well systems, there are currently few resources designed to help individuals identify and resolve issues with their well water.
Goal: The program's goal is to develop resources to help County Extension Coordinators more easily respond to client questions about private wells and water testing, and to help citizens seeking to test their well water know which resources are available to them. 
Outcome: The program consists of online and physical resources that provide educational information around the basics of well water and well ownership, including how and where individuals can get their private well-water tested, how to take a sample and interpret results, common issues experienced, and more. 
Moores Creek Project
About: 
The Moores Creek Watershed Project was a 4 year project (conducted in two phases) from 2015-2019. The Moores Creek Project is a collaboration of community members, local governments, local businesses, local environmental groups, Auburn University, Alabama Cooperative Extension System, Alabama Department of Environmental Management, and US EPA Region 4. Project Partners are working in the community to improve the water quality of Moores Creek by targeting non-point source pollution. 
Goal: Funded by the Alabama Department of Environmental Management and local stakeholders, the goal of the Moores Creek project was to improve the water quality in Moores Creek, and ultimately attempt to have it removed from the state's list of impaired waterways. A Moores Creek Watershed Management Plan was used as guidance on how to reduce the cumulative effects of non point source polluted runoff in order to meet or exceed state water quality standards and criteria for a Fish and Wildlife (F&W) water use classification.  
Outcome: As part of the Moores Creek Project, NPS pollutant causes and sources were addressed through development and implementation of best management practices. The Moores Creek Watershed Restoration Project was established in 2015 as a collaboration of concerned stakeholders and partners to improve water quality within the watershed. The focus of phase one of the Moores Creek Watershed Restoration Project was a reach of Moores Creek between Veterans Memorial Parkway (AL 50) and South 8th Avenue in Lanett, AL. 
The banks of the stream identified in Phase One were highly unstable. Stormwater erosion had threatened infrastructure: roads, parking lots, sewer lines and overhead utilities. Stream restoration efforts stabilized the area through the installation of in-stream structures, floodplain benches, and native vegetation. In-stream structures reduce erosive flows while redirecting flow to the center of the channel. These structures also serve to improve water quality reintroducing oxygen into the stream. The addition of floodplain benches relieves stress on roadways and utilities in flood conditions.  Deep networks of native vegetation root systems further stabilized the area by holding soil in place and promoting infiltration.
In Phase 2 of the project, local stakeholders worked collaboratively to identify new watershed priorities, expanding existing partnerships with the City of Valley, County, and other stakeholders to build on successful BMP implementation, as well as, education and outreach programs that were developed in Phase One of the project. Phase two of the project targeted BMPs, including a stream restoration project in front of Valley City Hall, which included  in-streams structures to redirect flows, streambank stabilization, introduction of riparian buffer vegetation, and the restoration of a native plant community. Active outreach and education was part of the process, and the project also included the implementation of other low-impact development practices like a rain garden and the stabilization of a highly eroded bridge scour.  
Pepperell Branch Watershed Partnership
About:
Pepperell Branch is a small waterbody that feeds into Saugahatchee Creek in central Lee County, Alabama. Part of the larger Tallapoosa River basin, Pepperell Branch, and its tributary Rocky Brook, flow through parts of the City of Opelika, a rapidly urbanizing town with a rich history and a renewed commitment to revitalization. Pepperell Branch and its tributaries are now receiving a resurgence of interest from the community. Pepperell Branch has a length of 6.67 miles and a drainage area of 14.58 square miles. However, routine water sampling by the Alabama Department of Environmental Management (supplemented by data from the City of Opelika and Alabama Water Watch volunteers), has identified water quality concerns in the Pepperell Branch Watershed since 1992.
In response to these water quality issues in Pepperell Branch, the Alabama Cooperative Extension System, CSES and City of Opelika partnered with others to apply for a CWA Section 319(h) grant from the Alabama Department of Environmental Management (Nonpoint Source Unit) in 2018 to develop the Pepperell Branch Watershed Management Plan (PBWMP). The Pepperell Branch Watershed Partnership, consisting of committed local stakeholders, was formed in 2018 to guide the planning process of the PBWMP and address the water quality concerns in Pepperell Branch. The PBWMP represents a comprehensive watershed improvement plan for the Pepperell Branch Watershed. The mission of the PBWP is to establish and implement best management practices that will improve the water quality in Pepperell Branch Watershed over time by addressing needed load reductions.
Goal: The goal of the Pepperell Branch Watershed Partnership is to develop a plan to establish and implement best management practices that will improve the water quality in Pepperell Branch by reducing pollution sources throughout the watershed. The ultimate goal is for the creek to meet water quality standards all year long.
Project:  This citizen directed project resulted in the production of a watershed management plan (WMP) that was developed with insight from local stakeholders and governmental entities. The WMP identified implementable best management practices that are based on the goals of water quality improvement and watershed protection. A comprehensive watershed approach was outlined with concentrations on the most significant sources of pollution contributing to the impairments.
To learn more about our programs or ways you can get involved, email us here.