News
---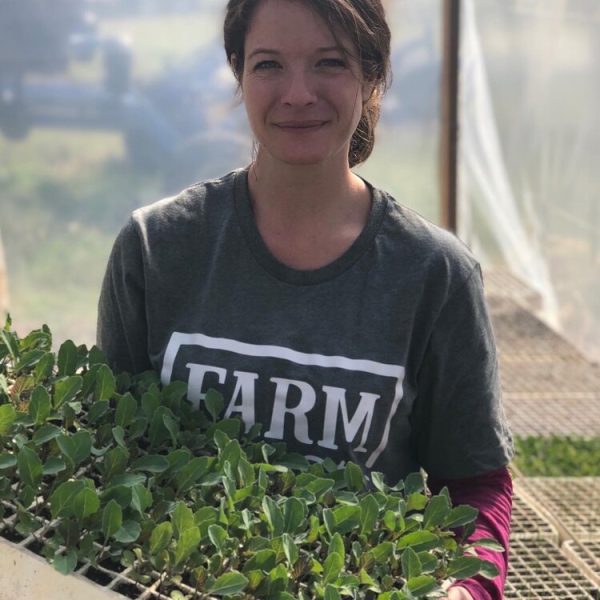 ALABAMA A&M UNIVERSITY, Ala. – Not many people can say they found their happy place, but that is what Boozer Farms is to Taylor Boozer Hatchett.
Hatchett is a former horticulture agent. Her father, Bobby Boozer, is a retired fruit specialist with the Alabama Cooperative Extension System. Given these strong ties, the Boozer family knows Extension well, applying best management agricultural practices to farm operations.
Hatchett has devoted the past 10 years to doing what she loves–farming. With the help of her parents and marketing and agricultural staff, she now produces 35 to 40 fruits and vegetables. This includes anything from berries and persimmons to cabbage, broccoli and tomatoes.
Community-Supported Agriculture
In addition to managing a 40-acre sod farm and growing produce, Hatchett runs a successful community-supported agriculture (CSA) program. CSAs are systems that connect food producers and consumers. For example, urban consumers can support a local farm by subscribing to receive fresh produce regularly. True to her Extension roots, Hatchett believes it is important for urban audiences to understand where their food comes from. Therefore, in her spare time, you might find her teaching people how to grow fresh produce. She is also involved in initiatives with the Alabama Fruit and Vegetable Growers Association, where she currently serves as president.
Advice for Future Farmers
In addition to being a farmer, Hatchett is a wife and the mother of an eight-year-old daughter she sees off to school each day.
"There is the challenge of balancing a career, a home and family life, but that is a challenge for most working women," said Hatchett, when asked about the challenges of being a female farmer.
As a featured speaker with Alabama Extension at Alabama A&M University's Small-Scale Market Crop Production series, Hatchett advises future farmers to apply for internships to experience real farm life. She also encourages them to learn as much as they can since farming requires people to use all sorts of skills from welding to harvesting crops.
To future female farmers, she encourages them to go for it!
"I could not imagine a job that would give the joy, peace and satisfaction that I get from farming," Hatchett said. "It is hard work, but also my happy place."
Urban Agriculture
Alabama Extension at AAMU provides educational outreach for individuals, including women, interested in urban agriculture. In 2021, the home grounds team educated more than 2,500 women about gardening and small crop management practices. Visit www.aces.edu to learn more about urban agriculture.