Alabama Extension Agents To Work with National Fatherhood Initiative
February 2, 2019
Posted by: Donna Reynolds
AUBURN UNIVERSITY, Ala. – There is a father absence crisis in America. According to the U.S. Census Bureau, 19.7 million children, live without a father in the home. The Alabama Cooperative Extension is working with a national initiative that strives to improve the well-being of children through the promotion of responsible fatherhood.
National Fatherhood Initiative
Debra Ward, an Alabama Extension human science regional agent, said that the National Fatherhood Initiative is the nation's leading nonprofit organization working to end father absence.
"Alabama Extension is excited to work with the National Fatherhood Initiative," Ward said. "The initiative believes the lack of father involvement in their children's lives is underlying many of society's most pressing challenges."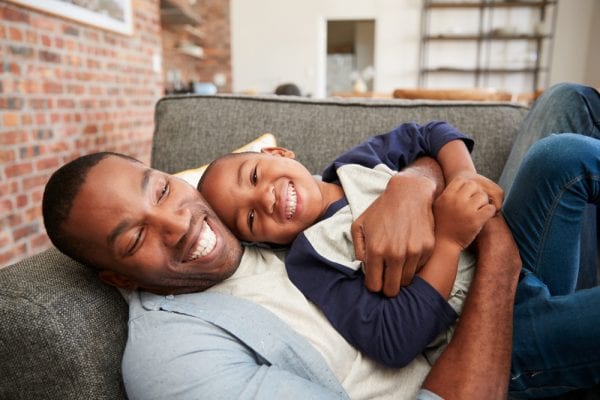 Ward's passion is to provide training and support to fatherhood coordinators so they can become effective recruiters of fathers and significant others.
"The 24/7 Dad is a unique, comprehensive fatherhood program consisting of 12 two-hour sessions. "We will implement the program in a group setting and include a pre- and post-assessment evaluation tool," she added.  The program focuses on five characteristics that a father needs to be a great dad 24 hours a day, 7 days a week.
24/7 Dad
When a father completes this program, he becomes a 24/7 Dad who is:
Aware of himself as a man and aware of the significant impact he has on his family. He is in touch with his moods and feelings/emotions, his capabilities, strengths and limitations.
A man who takes care of himself. He gets annual physicals, eats a healthy diet, exercises to stay in shape, has a strong spiritual connection with his community and chooses friends who reinforce his healthy choices.
Very aware of the significant role he has in the family. He is a positive role model. He capitalizes on his knowledge of the unique contributions (skills) he brings and that his wife/the mother of his children, brings to raising his children.
A nurturing parent who clearly understands and accepts the importance his parenting skills have in developing the physical, emotional, intellectual, social, spiritual and creative needs of his children.
Works to build and maintain healthy and supportive relationships with his children, wife, family, friends and community.
12 Training Sessions
Extension regional agents Ward and Isaac Chappell will lead the 12 sessions in the county jails and detention centers in Calhoun, Chambers, Clay, Cleburne, Coosa, Lee, Macon, Randolph, Russell, Talladega and Tallapoosa counties. They will also train a Fathers Engagement Facilitator to continue the program after they complete the grant project.
"I have watched Chappell for more than 10 years and he is a model for what a 24/7 Dad really looks like," said Ward.
Effects on Children Raised in Father-absent Home
Research shows children raised in a father-absent home are affected in the following ways:
4 times greater risk of poverty
More likely to have behavioral problems
2 times greater risk of infant mortality
More likely to go to prison
More likely to commit crime
7 times more likely to become pregnant as a teen
More likely to face abuse, drugs and alcohol
2 times more likely to suffer obesity
2 times more likely to drop out of high school
Engage Fathers in Children's Lives
Alabama Cooperative Extension System shares the NFI's vision for every child to grow up with an involved, responsible and committed father.  ACES regional agents will work with the National Fatherhood Initiative to help transform organizations and communities by equipping them to intentionally and proactively engage fathers in their children's lives.
ACES community partners and volunteers from various counties will work with Ward on the project.  They include: Burnette Jackson from Randolph County, and Michael Stigger, Karanja Story and Ronnie Tucker, all from Chambers County.
Did you find this helpful?