Lawn & Garden
---
Must Have Lawn and Garden Resources
July 11, 2019
Posted by: Justin Miller
AUBURN UNIVERSITY, Ala. – The gardening season is in full swing. Flowers are blooming and gardeners are harvesting their bounty. The Alabama Cooperative Extension System has many great lawn and garden resources for homeowners. Whether a master of a bountiful garden or a budding landscape perfectionist, Alabama Extension specialists are full of information to help your garden grow.
Resources
Each county is served by a regional home grounds, gardens and home pests agent. Each of the listed publications and articles are written by—or with—specialists and agents. Find the latest pest or weed control options, fertilizer recommendations and disease identification information below.
Publications
News Articles
Call The Master Gardener Helpline
The Master Gardener (MG) helpline is another great resource. This toll-free helpline connects callers with a knowledgeable team of master gardeners who can help answer a wide array of gardening questions.
Kerry Smith, the Alabama Master Gardeners program coordinator, said the program is used to expand the outreach mission of Extension. Volunteers from MG groups around the state work the phones answering questions—running the gamut from vegetable gardens to lawns and trees.
"The helpline has been in existence since 2006, as a statewide effort," Smith said. "We average about 20,000 calls to the helpline annually. The agents train these volunteers to expect the unexpected."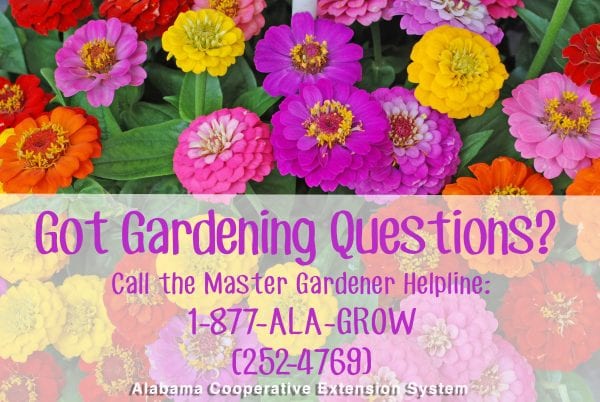 More Information
Alabama Extension has many more resources to help homeowners lawns and gardens. These can be found by visiting the Lawn and Garden page of the Extension website. For further information, contact your county Extension office.