Lawn & Garden
---
Mums: The Southern Star of Fall
October 8, 2019
Posted by: Victoria Dee
AUBURN UNIVERSITY, Ala. – Fall in Alabama is often characterized by beautiful displays of orange leaves, gourds and pumpkins. The star of fall in the South, however, is chrysanthemums, more commonly known as mums. The bold crimson, burnt orange, golden yellow, deep purple and snowy white colors characterize these bursting blooms. If properly cared for, mums can provide bright color all fall long.
Varieties
Over 150 varieties of mums exist, with most of these being native to China, Europe and Japan. Most people, however, think of three varieties when they think of these flowers: reflex, pompon and spider mums.
Sallie Lee, an Alabama Extension regional agent in home grounds, gardens and home pests, said mums tend to make their debut every fall.
"Most varieties are actually planted in the spring, but they are in their element later in the year," Lee said.
According to Lee, the care regiment depends on the variety.
"Caring for mums depends in part on the variety, so it pays to check the tag on the plant or with the nursery before hauling home a flat or two," Lee said.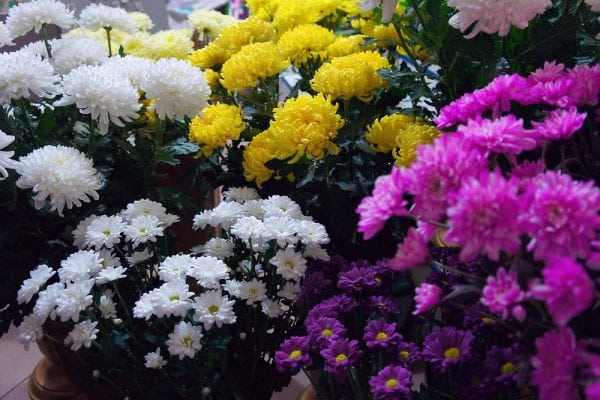 Planting
Outdoor varieties are usually planted in early-to-mid-spring. Some of the hardier varieties are able to withstand late frosts. Generally, these in-ground or perennial mums planted in the spring bloom longer. These have access to more natural sunlight than those inside a home or covered under a porch.
Florists mums, more commonly known as annual mums, are intended to be indoor floral decorations. According to Lee, these plants can be planted outside in sunny areas, but they will not survive through the winter.
Caring for Mums
Depending on variety and characteristics, caring for mums can range from little maintenance required to everyday pinching of leaves and flowers.
If planting in-ground mums is not an option, consider a potted mum with lots of buds and no full blooms. Plants with buds already open are often tempting to purchase, but the ones that have not yet blossomed will have a longer bloom period.
The key for these flowers thriving throughout the season is access to moderate water in well-drained soil. Check the soil in both the ground and pots before watering. If the soil is soggy, root rot is possible.
"Check the soil whether plants are in pots or in beds," Lee said. "The soil needs consistent moisture but not an overdose."
According to Lee, the length of bloom time is affected by sunlight. Most mums do best with full to nearly full sun. Those grown in too much shade do not hold up well. Cooler temperatures are also key in helping sustain the bloom period.
Mums will eventually begin to lose their luster, but this does not mean it is time to throw them out. Lack of water is often the cause when plants start wilting. Lee suggests giving them a slow, deep drink. Encouraging new blooms is also possible by removing the spent ones with garden pruners or even your fingers.
More Information
For more information on caring for mums this fall, or other garden questions, visit www.aces.edu or contact your county Extension office.