Lawn & Garden
---
Grow More, Give More Poised for Outreach Expansion Thanks to RC&D Grant
October 28, 2021
Posted by: Katie Nichols
AUBURN UNIVERSITY, Ala.—The Alabama Association of Resource Conservation and Development (RC&D) awarded a $10,865 grant to the Grow More, Give More (GMGM) campaign—a community outreach project developed by the Alabama Cooperative Extension System's home grounds team.
Bethany O'Rear, an Alabama Extension home grounds regional agent, said GMGM has opened the eyes of many Alabamians to realize the prevalence of food insecurity in their communities.
"The GMGM campaign has reached beyond what we could have imagined at the outset of the program," she said. "We are so thankful for this generous funding to expand the reach of GMGM to citizens, both through education and demonstration—at demonstration gardens, farmers markets and info booths."
RC&D Funding for Grow More, Give More
The grant will give GMGM program partners necessary funding to expand community outreach to new gardeners, especially families with children. However, the most visible aspects of the GMGM expansion will be upgrades to operating demo gardens across the state.
Additional funding was awarded to expand promotion, recruitment and public awareness. This includes growing kits for distribution at farmers markets and other community events, which will provide children and young adults with a ready-to-grow gardening kit.
Demonstration Gardens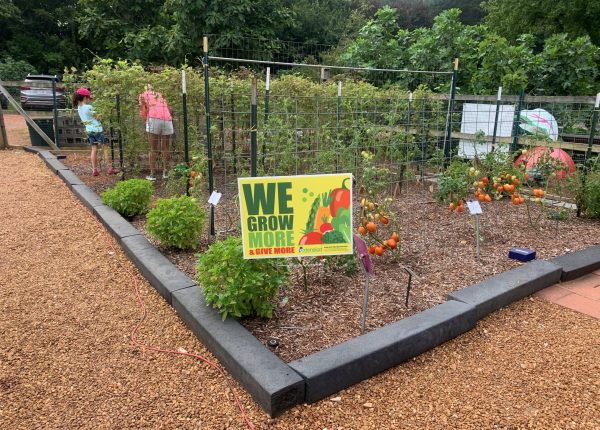 Through grant funding, home grounds agents, Extension Master Gardeners (MG) and other community helpers will renovate and update community demonstration gardens in 10 locations throughout the state.
"We chose demo gardens where Extension MG are already actively contributing to their communities," O'Rear said. "We hope to use these demo gardens to spotlight different gardening methods."
O'Rear said methods will include things such as extending the growing season, pest exclusion planting techniques and the use of heating cables in the soil to warm plant roots.
These are useful practices in many places, but may take some finessing to be productive in other areas of the state. O'Rear said the demo gardens are real-time trial and error projects, geared toward helping gardeners make informed decisions when planting in the back yard. The demo garden projects will help determine the best ways to regionally manage weather and pests. Using this information, Extension agents can then make location-specific management recommendations to home gardeners.
GMGM Growing Kit
Gardening can be an intimidating task for first-time gardeners. O'Rear said the GMGM campaign has already broken down barriers. It has helped the inexperienced find success and encouraged them to grow another row for community donation. One of the most compelling things about GMGM is the opportunity for gardeners on every scale to contribute to community well-being.
Still, there is an opportunity to expand the GMGM campaign reach to the youngest and oldest gardeners in Alabama. This starts by removing gardening hurdles and providing individuals with the tools necessary to successfully grow vegetables in the backyard.
500 Grow Kits
Initial grant funding will help GMGM volunteers assemble 500 grow kits for distribution in 2022. Each grow kit will include everything a vegetable plant needs to be productive. Depending on the seed or transplant, grow kits will include
A container or bucket
Seeds
Soil
Fertilizer
Directions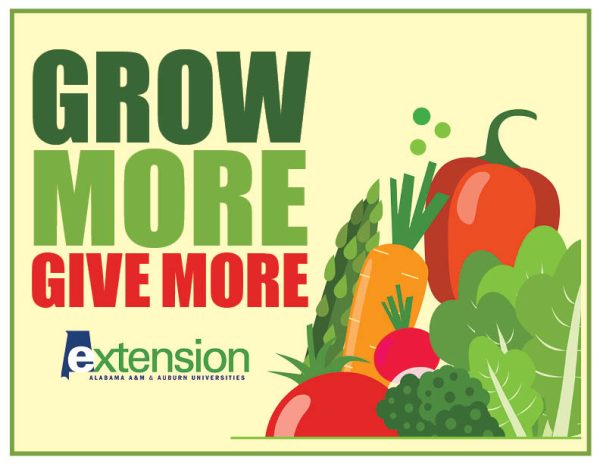 "The idea of the grow kits is to give an individual or family everything they need to do a productive, team-building activity together," O'Rear said. "We want to remove as many obstacles as we can. Access to growing materials, seeds, fertilizer and instructions will not be a problem because each of these things will be available to recipients of the grow kit."
Many school-aged children are already exposed to gardening with 4-H club and other activities. O'Rear said the home grounds team hopes to reach children and families who have not had gardening experiences.
Grow kits will be age-specific. For example, third through eighth graders would receive a five-gallon bucket with soil, fertilizer, instructions and a tomato plant. Younger children would receive a two-gallon container with bean seeds, instructions, soil and fertilizer.
"Our main desire is to promote and foster gardening at an early age. Early success often leads to life-long gardeners," O'Rear said.
More Information
For more information about the Grow More, Give More project to feed those in need, visit the Grow More, Give More webpage. For more information about demonstration gardens near you, contact your local home grounds agent. To learn more about gardening and the resources available to you, visit www.aces.edu or contact your county Extension office.