Lawn & Garden
---
Daffodils Not Blooming? Find Out Why
February 21, 2020
Posted by: Justin Miller
AUBURN UNIVERSITY, Ala. – Daffodils are always a springtime favorite. Their brightly colored blooms are one of the signs that spring is on its way. However, sometimes these plants will grow their green leaves without producing a bloom, leaving many gardeners scratching their heads.
Causes of Bloom Failure
Lucy Edwards, an Alabama Extension home grounds regional agent, said daffodils are usually carefree plants, but there are several things that can keep them from blooming.
"This year, if your bulbs fail to emerge, appear stunted or exhibit yellow leaves, it could be due to bulb rot," Edwards said. "In soils that are too moist, bulb rot can also lead to blooming failure. Daffodils need good drainage for flower production."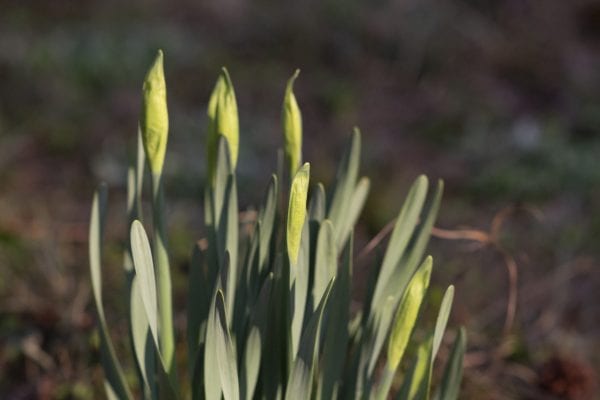 This year's wet Alabama weather is conducive to pathogen development. Edwards said bulbs exhibiting signs will require hands-on inspection for disease.
"Diseased bulbs are usually soft, discolored and odorous," she said. "These bulbs and the surrounding soil should be discarded."
There are other causes of bloom failure in daffodils, so home gardeners may need to do a little detective work to determine the cause behind poor flower production.
"Other causes of bloom failure include the plants having too much shade, bulbs being planted at the wrong depth or the plant is the wrong variety for the area," Edwards said. "Sometimes the problem is as simple as feeding the bulbs with a fertilizer."
To determine if nutrients need to be added to the soil, gardeners should perform a soil test. The Extension publication Home Soil Testing: Taking a Sample contains detailed information on how to take a soil sample and where to send it for testing. Results from this test provide fertilizer recommendations based on soil submissions.
Planning Ahead
If a gardener's daffodils did not bloom this year, Edwards said they should not give up. There is a possibility they will bloom next year.
"It is possible for bulbs that haven't bloomed in the past to bloom the following year," she said. "There are certain things people can do throughout the year to improve the chances of blooming the following year."
One of the most common mistakes is removing the leaves too soon in the spring. The bulb acts as an energy storage unit. It saves up energy through the dying plant material. Cutting the leaves before they die back essentially steals the nutrients from the next year's growth and flower production.
In the fall, when getting ready to plant bulbs, Edwards said there are a few things to remember.
"Always plant at the correct depth because bulbs planted in shallow soil may result in sparse blooms," Edwards said. "Make sure to plant bulbs in an area that gets plenty of sun. Also, make sure purchase plants that are suitable to grown in your area."
Steps to avoid bulb rot include:
purchase bulbs from a reputable source
take care to avoid damaging when handling
plant at proper depth
The fall is also the best time of year to thin and divide existing daffodil plants if needed.
More Information
For help answering gardening questions, give the Master Gardener Helpline a call at 1-877-ALA-GROW (252-4769).  This toll-free helpline connects people with a knowledgeable team of Master Gardeners. For more information, visit www.aces.edu or contact the Extension home grounds agent in your area.