Lawn & Garden
---
Alabama Master Gardeners Brand & Logo Guidelines
January 24, 2022
Posted by: Kerry Smith
A New Set of Garden Tools
These guidelines help give uniformity, consistency, and integrity to the identity and image of the Alabama Cooperative Extension System and Alabama Master Gardeners. These guidelines should be adhered to for all applications using this logo.
Where to Plant
The MG logo should be prominently displayed at Extension-sponsored or cosponsored events. Doing so promotes the relationship between the MG community and Extension. The full-color Extension logo should appear in conjunction as often as possible.
The Alabama Master Gardener name and emblems should not be used by commercial vendors or for private endorsement.
Know Your Varieties
Below and to the right are official Alabama Master Gardener logos. These logos should be prominently displayed on all official Alabama Extension documentation and products (digital and print).
Tending a Proper Garden
The MG logo fonts and lettering may not be altered.
Master Gardener logo fonts:
Motter Corpus Std Semicondensed
Helvetica Neue LT Std 87 Heavy Condensed
Cross Pollination
Personalize your Master Gardener apparel to showcase your local association.
The MG logo should be surrounded by ample white space (blank field). This helps the logo stand out, detach from surrounding visual elements, and emphasize the MG brand.
Do not allow logos to run off or be placed too near the edges of a page or printed surface.
Do not allow text, graphics, or other logos to run over, behind, or touch the MG logo.
Do not place the logo on surfaces that distract or disguise.
Do not place the logo on similarly colored backgrounds.
Gardening Feeds The Soul
This example shows illustrations of county names below the logo/ mark. Current examples show stitching/printing on a polo and tote bag. These are typical items that local MGAs create, using this logo/mark. By giving examples, we encourage other groups to use this statewide image and locally brand the program.
Master Gardener logo customized for individual counties.
The name of the county MGA should be in the font Univers Condensed and bolded. The font size of the county MGA should be slightly smaller than ALABAMA MASTER GARDENERS.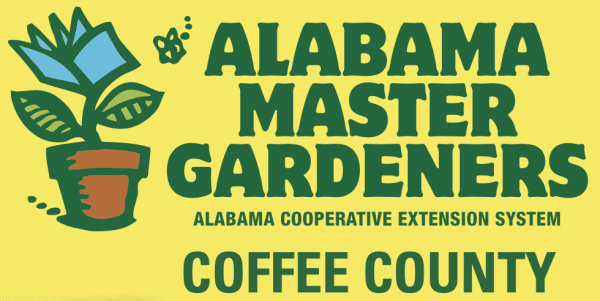 Know Pests (And How to Avoid Them)
The MG logo may appear in one color only if a single color media is used.
The MG logo should be used in its entirety. At no time should it be condensed; extended; stretched; rearranged; disassembled; positioned vertically, diagonally, or upside down; or otherwise altered with the exception of embroidery and color options.
Work Together for a Better Harvest
The Master Gardener logo may be used in conjunction with other programs, partnerships, institutions, and other supporting organizations. The MG logo should be given prominence consistent with the role of the relationship.
Proper and consistent use of the MG logo brands it as an important part of the Alabama Extension mission, network, and outreach efforts. It builds brand loyalty and trust.
Alabama Master Gardeners Are Ready to Grow
A properly used logo can become a symbol of quality, knowledge, friendship, partnership, and community.
Address questions about logo use to Kerry Smith, State MG Program Coordinator, at smithkp@aces.edu.
---
Kerry Smith, State Master Gardener Program Coordinator, Auburn University
Revised January 2022, Alabama Master Gardeners Brand & Logo Guidelines, EX-0050