Landscaping
---
Street Trees 1: The Problem and the Solution
March 8, 2019
Posted by: David H. West, Ken Tilt, Dave Williams, Harry Ponder
in Landscaping
The Problem and the Solution is part one of four in the Street Trees: Site Selection, Planting, and Maintenance in the Urban Landscape series.
This series addresses the planting and establishment of urban trees. It is designed to help the urban forester, city horticulturist, city official, tree commission, and other concerned citizens invest money wisely when trying to improve their cities through environmental beautification.
The Problem
When most of us envision the ideal city street, we dream of towering oaks and elms with massive outstretched branches providing dappled shade. We imagine sidewalks lined with flowering dogwoods, cherries, and crabapples. We think of people out walking, jogging, playing, relaxing, and enjoying the outdoors. Birds, squirrels, and other animals will also grace the natural scene. Unfortunately, for streets of most of our larger cities, reality is asphalt and concrete, pollution-stained buildings, smog, assorted trash, graffiti, and pigeon-stained benches and statues.
It is not often that you hear someone describe a wonderful experience of going to a downtown motel and throwing open a window to let in the fresh air and spring fragrances. Usually, the curtains stay closed to block a less than desirable view. Surely we can improve these circumstances.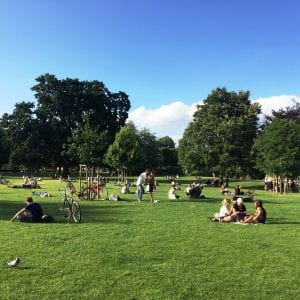 A few bright spots exist but, regrettably, the best place to see our vision of beautiful city streets is on film. We can have those dreams, however. Our  communities can be revitalized. But it takes planning and cooperation to create and maintain a livable environment as our cities expand. If planning is not done before the expansion, it is much harder and more expensive to go back and correct our mistakes.
When architects began contributing their twentieth-century artistry to our cities, they often did not have the knowledge, sensitivity, or budget to offer a comfortable, livable environment. Research was not available at the time to show the economic, psychological, and environmental advantages of blending nature with synthetic constructs. Proper landscape design and establishment techniques were unknown for providing the necessary environment for plant growth and development. The attitude at the time was that landscaping was nice, if funds were available for beautification. Public officials did not realize that
landscaping and planting trees create an environment that is not only pleasing to inhabitants but is a necessity for creating and maintaining economic vitality and survival of the city's economy.
City officials and budget watchers did not believe that psychological benefits were worthy of the necessary funding. When cities began to decline and urban research revealed the value of trees, city officials acted in good faith. With limited budgets and little knowledge of plant-growth requirements, communities tried to repair the problems. They chiseled out 4-foot squares of concrete and soil and planted trees. With good intentions, they planted dogwoods, oaks, ashes, and many other prized trees into the holes and stepped back and waited for their investments to mature. As we know, the vision became a nightmare as stunted, chlorotic, diseased trees struggled for survival in intolerable conditions.
The Solution
Properly planted and well-maintained trees are an investment in the future of our cities. If you provide people with a comfortable and safe place to live, eat, and shop, they will come and spend their money. This article outlines the proper techniques for planting and establishing trees in an urban environment. It will help you and your community invest your time and money wisely in properly selected and planted trees.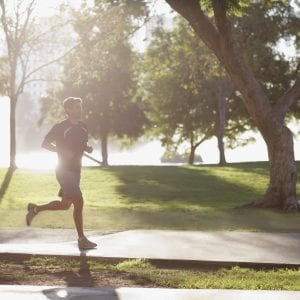 The concept of Plant Health Care was introduced by the USDA Forest Service, National Arborist Association, and the International Society of Arboriculture. This concept approaches tree care from seed to old-age decline. It encourages initial design considerations, preventive care, frequent monitoring, early detection of problems, and use of integrated treatments to provide long-term, stable solutions to urban tree health problems. We share our urban forests with plants and animals, and this program recommends management methods that are environmentally safe, cost-effective, and conscious of human needs.  Although this article focuses on planting and establishment, all aspects of plant health care management should be achieved together.
A successful tree-planting and establishment program must have the following:
A good design.
Proper site evaluation and preparation.
Proper plant selection.
Proper installation and maintenance techniques.
These requirements are all interrelated. If one step is not done right, it jeopardizes the whole project: The plant must be suited to the light exposure, drainage, soil chemistry, and other factors of the site; the design must consider the characteristics of the site and allow enough room for good root system development; the preparation, installation, and maintenance must suit the needs of the plants, the design, and the site.
No planting situation is going to be perfect. Evaluate each factor and make few concessions to the "Optimum Planting Conditions." Each compromise creates potential stresses on the plant. Individually, these stresses usually do not hinder growth and establishment, but successive compromises accumulate until plant establishment and growth are jeopardized.
Street Trees: Site Selection, Planting, and Maintenance in the Urban Landscape series