Integrated Pest Management (IPM)
---
Commercial Horticulture Programs and People
August 14, 2018
Posted by: Ayanava Majumdar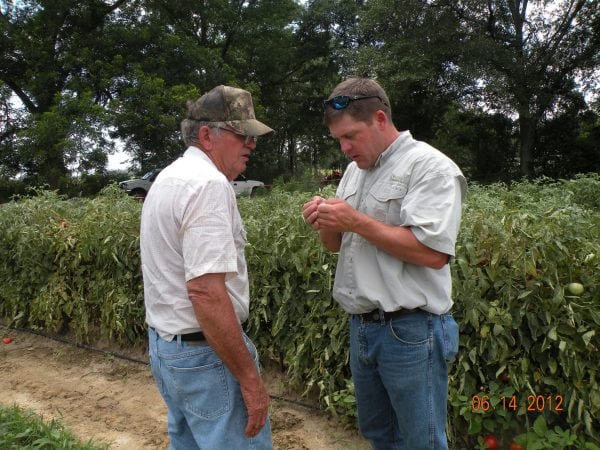 The Commercial Horticulture Program provides research-based information to nurseries, landscape companies, and fruit and vegetable growers with conventional or organic production systems through regional meetings, advanced workshops, webinars, exhibitions, and field events. The commercial horticulture team offers a certification program for small retailers and plant, soil, and pest diagnostic services for new/beginning farmers. The program emphasizes environmental stewardship, best management practices, and economic viability of communities across Alabama.
PROGRAMS
Fruit Crop Production Program
Expected Outcome: Increase production and marketing opportunities for fruit crops. Increase awareness of new cultivars and orchard management techniques among growers.
Commercial Greenhouse Crop Production and Nursery
Expected Outcome: Support the growing commercial greenhouse and nursery industry statewide. The project will provide hands-on training and resource materials for promoting best management practices to benefit producers.
New/Beginning Farmer Initiative
Expected Outcome: New producers will be directly trained in crop production, plant production, food safety, and marketing at regional Extension meetings and field events. These events will be organized in cooperation with nonprofit agencies, experienced producers, and industry representatives. Producers are encouraged to sign up for the Beginning Farmer online course. New producers are encouraged to participate in the annual Alabama Fruit and Vegetable Growers Association conference that features many speakers from around the nation.
High Tunnel/Protected Agriculture
Expected Outcome: Train new producers intensively in field production of high-value crops in high tunnel and other protected structures. A training curriculum for producers is available as a reference.
IPM Education for the Conventional Vegetable Producer
Expected Outcome: Increase the adoption of integrated pest management practices (IPM) for vegetable disease and insect management for a healthier environment. Educate small agriculture retailers by participating in the Certified Horticultural Retailer (CHR) Initiative. Develop new publications and promotional materials.
Best Management Practices to Enhance Economic, Environmental, and Community Sustainability
Expected Outcome: Increase the use of best management practices within commercial horticulture industries, concentrating on optimization of proper cultivar selection to enhance economic, environmental, and community sustainability.
Nutrient Management for Vegetable Crops
Expected Outcome: Publicize and reinforce specific statewide and regional recommendations to maximize yield potential while providing for economical use of fertilizers for commercial vegetable crops.
Organic Vegetable IPM Project
Expected Outcome: Create awareness of organic vegetable production techniques among small producers and increase adoption of organic pest management practices. The project also aims to support producers seeking organic certification for their farms.
Pesticide Safety and Education for Private and Commercial Applicators and Homeowners
Expected Outcome: Improve public health and environmental quality and the safety of pesticide applicators, the community, and their families. Educate and encourage farmers, industry, government, natural resource managers, and the public to adopt economically and environmentally sound pest and pesticide management practices.
Soil Quality Recommendations
Expected Outcome: Develop tools to evaluate soil quality. Help producers learn the benefits of improving soil quality and improve productivity by evaluating their soil quality.
Sustainable Horticultural Crop Production Reactive Programs
Expected Outcome: Provide research-based answers to production-related issues in commercial horticulture. Provide reactive programs in the form of websites, e-mails, and phone calls in response to queries. Develop publications and publicly promote success stories. Conduct on-site and off-site consultations with farmers, crop advisors, and strategists.
Marketing Educational Program for Small Farmers
Expected Outcome: Raise awareness of Internet-based and direct marketing approaches. Increase adoption of MarketMaker in Alabama.
Download a printable version of Commercial Horticulture Programs & People, EX-0162.
Download a copy of the Commercial Horticulture Banner, ANR-1449.
Download a printable version of Commercial Horticulture; Making a Difference in the Food System, ANR-2185.