Home & Family
---
Winston County Students are Living to Serve 
December 6, 2019
Posted by: Justin Miller, Katie Nichols
AUBURN UNIVERSITY, Ala. – Many adults do not see teenagers as change agents. However, Zack Brannon, the Alabama Cooperative Extension System's Winston County coordinator, knows that young people can change lives.
A partnership between Alabama Extension and a group of students and FFA members at the Haleyville Center of Technology has brought real-world meaning to the FFA motto of learning to do, doing to learn, earning to live, living to serve. This partnership is making their community a better place for others.
Beginning of a Partnership
Brannon learned of the need for a walk-in cooler in September and contacted the agriscience and drafting departments at the Haleyville Center of Technology.
"I reached out to these students because I knew they would have the drive and ability to make a project like this happen," Brannon said. "Getting to see what these kids can do gives me hope for tomorrow."
The result of the students' efforts is the Eco Cold Storage Main Street Ministries Project.
Main Street Ministries, which has served the community for nearly 10 years, was using a refrigerated trailer to store perishable items, but the trailer was no longer available. The students began working together with the Winston County Extension office to solve the problem.
"After our teachers were given the idea for the room by Zack Brannon, they introduced it to us and we got to work," said Erin Thrasher, a junior at the Haleyville Center of Technology. "Drafting students designed the eco cool room and then in turn, helped the agriscience students build the room. In a short couple of months, the team built a successful and operating cool room."
Brannon helped secure the necessary funds and materials in order to build the cooler. The group was awarded $5,000 through the Northwest Resource Conservation and Development Council. Alabama Power also donated $800 to the project, and Mill Creek Lumber donated the lumber materials necessary to build the cooler.
Fulfilling the Need
For eleven months every year, Main Street Ministries provides food for 800 families with low incomes.
Before the installation of the walk-in cooler, the ministry distributed $117,500 of perishable food per year or about $2,500 in refrigerated food each week. Thanks to the students, the addition of the 84-square-foot cooler has expanded the community outreach allowing the food pantry to share $282,000 worth of perishable food each year.
"It makes us feel proud to help others and to understand that we have the potential to help many more," said Karman Speakman, a sophomore at the Haleyville Center of Technology. "Now, we have the knowledge and experience to continue doing better and to improve not only our ideas, but ourselves, along with our community."
Brannon said the privilege of being part of the Extension family is a blessing in itself.
"Being able to do it in Winston County—my home county—is an even bigger blessing," Brannon said. "The ability for our students and community to come together to fill a need is why it is so special to call Winston County home."
Jamie White, the Haleyville Center of Technology drafting and design instructor, said it was wonderful to have the opportunity to teach his students that anyone can make a positive impact on his or her community.
"It was an amazing experience knowing that our students bought in to the eco cool room project," White said. "It was a very proud moment for me as a teacher to see our kids serving others during the holiday season and for years to come."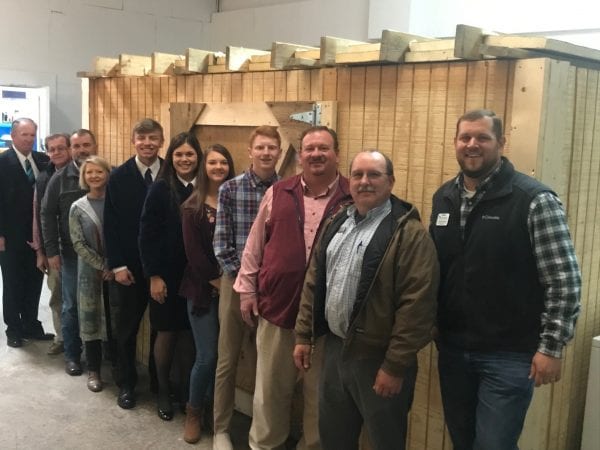 Making a Difference
Nash Collum, a senior at the Haleyville Center of Technology, said he is glad the project will help provide food for families in the area, especially with the holiday season approaching.
"I am astonished and left in shock when I hear about the number of people in the community that we are going to help," Collum said.
Jeff McKinney, the agriscience instructor at the Haleyville Center of Technology said he feels encouraged for the future of our state and our country.
"When I see students putting the needs of others before their own, I am encouraged to do more myself," McKinney said. "We all hear negative comments about how self-centered our young people have become, but to see my students step up and take charge really makes me proud."
Samsung Solve for Tomorrow Contest
After making a difference in their community, these students entered the 10th annual Samsung Solve for Tomorrow contest in hopes that their example will spark awareness of similar needs in other communities. The Haleyville Center of Technology is a state finalist. This is a nation-wide competition where students in grades six through 12 creatively use STEM (science, technology, engineering and math) skills to solve a community challenge.
From a pool of more than 2,000 entries, only 300 schools were selected as state finalists. Students at the Haleyville Center of Technology will find out if the Eco Cold Storage Main Street Ministries Project advances as one of 100 state winners, to be announced Dec. 23.
Whether the project advances or not, these students and instructors are already making plans to continue serving their community.
"It warms my heart to produce such a blessing for those who have food security issues," said Julia Bonner, a senior at the Haleyville Center of Technology. "I have learned so much more than just building a room from this collaborative project."
Help Students Advance
Part of the Samsung Solve for Tomorrow contest includes social media shares and usage. Social media users can help the students of the Haleyville Center of Technology by posting about their Eco Cold Storage Main Street Ministries Project.
Posts about the project should include the hashtags #SamsungSolve and #SolveforTomorrow. You can also tag @SamsungSolveforTomorrow on Facebook and @solvefortomorrow on Instagram.
Over the next few weeks, The Winston County – Alabama Extension Facebook page offers a behind-the-scenes look into the work and collaboration behind this project. Visit their page daily to like and share posts to help advance these students to the next phase of competition.