Home & Family
---
SNAP-Ed Educator Sees Positive Results From Nutrition Class At Tuskegee Church
September 17, 2021
Posted by: Dustin Duncan
AUBURN UNIVERSITY, Ala. — SNAP-Ed Educator Dominguez Hurry found a way to combine two passions  — helping Alabama communities thrive and improving the lives of its residents.
Hurry is a SNAP-Ed educator in Macon and Bullock Counties for the Alabama Cooperative Extension System at Auburn University. This past summer, he helped members of a local church to recognize the nutritional value of foods. He also helped them save money at the grocery store.
Live Well Faith Communities
Through a program developed by Auburn SNAP-Ed called Live Well Faith Communities, Hurry worked with members of the Washington Chapel AME Church in Tuskegee to make better food choices and shop smarter. The program consisted of nine lessons ranging from creating a meal plan to save money on food, safely preparing foods and preventing food illnesses.
Hurry said he has taught lessons at the church in the past, but attendance was low. However, because of the COVID-19 pandemic, the church decided to start a feeding program. The program was to ensure its members would have at least one hot meal each week. Hurry said it was the perfect opportunity to teach classes because the members were already coming for the meals.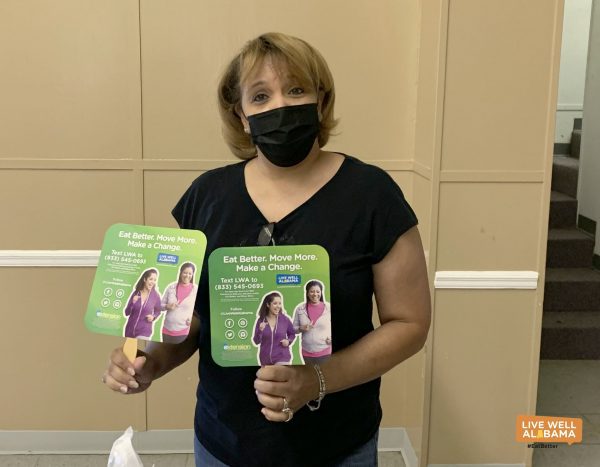 Shortened Lessons
More than 20 individuals attended the shortened nine-week class. Most of the participants were part of the church, but some were from the community. Typically, the Live Well Faith Communities course is 12 weeks, with each class lasting about an hour. Hurry shortened the program to nine weeks to help members attend. Each course was about 45 minutes, designed to keep attendance high.
"I wanted to keep all the members engaged in the content of the lessons," Hurry said.
The nine-week course started with reinforcing the idea of changing the way the congregation thought about drinks. Instead of looking toward sugary beverages like soda or sweet beverages, Hurry recommended drinking water with meals.
Other lessons included making a grocery list before shopping, sticking to it, and reading nutrition facts labels before making shopping decision. Hurry also discussed the importance of making meals at home, and making an effort to exercise more often.

Results
As a result of Dominguez's work at the church, members reported positive changes, including eating a greater variety of fruits and vegetables, selecting reduced-fat dairy and drinking more water than before the lesson.
Hurry said he's known some of the church members all his life, and while many are older than him, it was fulfilling to help.
"For many of them to listen to me and understand that what I'm saying will help them live a better life was extremely rewarding," he said. "I'm planning on doing it as much as I can for this community. We just need the participation to be there."
To contact Hurry, SNAP-Ed educator in Bullock and Macon counties, call (334) 738-2580 or email him at hurrydc@aces.edu.
For more information about SNAP-Ed in Alabama, visit Livewellalabama.com or visit Live Well Alabama on Facebook, Twitter, Instagram and Pinterest.