Home & Family
---
Ice Cream for Fourth of July
July 4, 2019
Posted by: Justin Miller
AUBURN UNIVERSITY, Ala.—Happy Independence Day! Today, people across the country are celebrating the Fourth of July with fireworks, friends and food. No celebration would be complete without one of American's all-time favorites; ice cream. Whether you have store bought or make it yourself, it is almost a requirement that you have ice cream at your Independence Day celebration. For those who wish to make it from scratch, here is a great vanilla ice cream recipe that is sure to make your party a success.
Vanilla Ice Cream
Makes 4 quarts, or 32 servings.
1 quart 2 percent milk
2 cups sugar
3 12-ounce cans evaporated skimmed milk
1 12-ounce can evaporated milk
2 tablespoons vanilla
Directions
Heat half of the 2 percent milk, but do not boil. Add sugar and stir until dissolved. Then add the remaining 2% milk, the 4 cans of milk and vanilla and stir. Cover and chill for at least 25 to 30 minutes. Chilling longer will increase the volume and make it smoother. Pour chilled mixture into freezer can of an electric or hand-turned freezer. Fill can only two-thirds full to allow for expansion. Put can in freezer bucket and add dasher. Secure lid on can. To sweeten with ripe berries, add 3 cups of mashed fruit when adding vanilla to the mixture.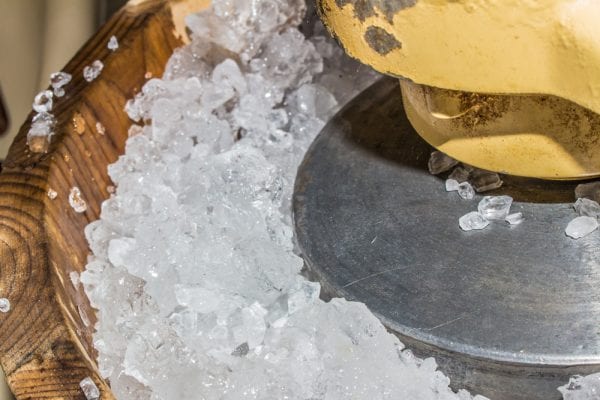 Freezing
If using an electric freezer, follow manufacturer's directions. If using a hand-turned freezer, use 1 part ice cream salt to 4 parts chipped or cracked ice. Layer the ice and salt, beginning with ice. Turn freezer slowly and evenly until turning becomes difficult, indicating the ice cream is frozen. Remove the stopper from the side of freezer bucket and drain the salty water then, return the stopper. Clear salt and ice away from the lid and wipe it free of salt. Be sure that no salt water gets into the ice cream.
Remove the dasher and press ice cream down in can. Cover top of can with plastic wrap or foil and replace lid. Cork or pack lid to keep salt water from seeping in. Repack freezer with enough ice and salt to come above top of can. Cover with several thicknesses of newspaper and cloth. Put aside in cool place for 2 hours to let the cream ripen.
More Information
This recipe and others can be found in the Auburn Cookbook, a publication of Alabama Extension. For more information, visit Alabama Extension online at www.aces.edu.