Home & Family
---
Alabama FAST: Extension Helping Students Survive FAFSA
August 30, 2022
Posted by: Justin Miller
AUBURN UNIVERSITY, Ala. – Just pronouncing the acronym FAFSA is difficult enough, let alone actually trying to fill out the application for it. Difficult or not, millions of students file for Free Application for Federal Student Aid–better known as FAFSA–every year. This year, the Alabama Cooperative Extension System is here to help make the application process a little easier for students. Alabama FAST (FAFSA Application Survival Toolkit) equips students, parents and school officials with the knowledge needed to make sound choices about the FAFSA process.
What is Alabama FAST?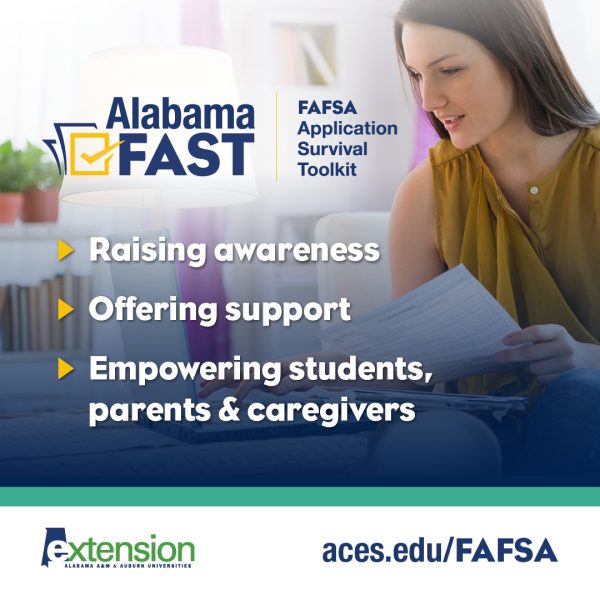 Alabama FAST is a comprehensive online toolkit that includes materials that address many avenues of the FAFSA application process. From help determining if you should file for FAFSA to avoiding scams, this toolkit has something for you.
Portia Johnson, an Alabama Extension financial resource management specialist, said the initial idea was to offer hands-on assistance to families completing FAFSA. However, the team considered Extension's strengths and factored in the other FAFSA efforts already occurring statewide by other organizations.
"After a great deal of research, we found that there are a few common barriers for families, the principal among them being that people believe they don't qualify for FAFSA or perceiving that they don't need aid," Johnson said. "At its core, Alabama FAST is an awareness campaign. We provide sound information to families so they can make a more informed FAFSA decision."
Alabama FAST presents information through a variety of mediums including an interactive decision quiz, fact sheets, in-person workshops and more. Find all of these resources at aces.edu/FAFSA.
Supporting Counselors and Career Coaches
The Alabama FAST materials also help high school counselors and career coaches as they work with their seniors. The toolkit includes posters and bookmarks that these educators can distribute through their schools. Schools can also share the available social media materials to spread the word about FAFSA to families.
During the 2021–2022 school year, Alabama became only the fourth state in the nation to require high school seniors to complete the FAFSA application or complete a nonparticipation waiver. Johnson said this mandate increased the workload for educators. They went from helping a fraction of their seniors with FAFSA to engaging with all of them.
"Universal FAFSA mandates are proven to increase FAFSA participation, but some experts raise valid concerns about the increased strain on counselors and career coaches, especially if the mandate is not well-funded," Johnson said. "Alabama FAST is designed to give these counselors and coaches the resources they need to communicate efficiently about FAFSA and make their jobs a little easier."
Phyllis Palmer is the district career coach for the Lowndes County Public School System. She said one of the biggest FAFSA challenges for seniors is getting parents to complete their part of the process. She said the toolkit materials will help her greatly as she works with parents and students.
"These materials have the potential to be very impactful," Palmer said. "A lot of parents are skeptical about divulging their financial records. If more seniors and parents are able to ask those pertinent questions and receive proper education about why the financial information is needed, their fears can be combated by actual facts."

The Help of Partners
Alabama Extension thanks Alabama FAST's supporting partners for their work in this endeavor. External partners include Alabama Possible, Alabama State Department of Education, Alabama Commission on Higher Education and Alabama Community College System. Internal partners include Auburn University's Department of Human Sciences, Office of Student Financial Services and Women's Philanthropy Board.
"Building this useful and impactful curriculum has taken the support of all our partners," Johnson said. "We believe that when people have the resources needed to dispel FAFSA myths and address concerns, most will find that FAFSA is a great opportunity for their families."
Chandra Scott is the executive director of Alabama Possible. She said the organization is excited to know Alabama FAST will provide students and families with direct support in navigating FAFSA.
"As the executive director of Alabama Possible, we are always seeking partners across the state to ensure every student is afforded the opportunity to explore their postsecondary journey without financial barriers," Scott said. "Increasing postsecondary attainment in Alabama requires many partners collaborating on behalf of student success."
More Information
People can find all of the Alabama FAST materials at aces.edu/FAFSA. In addition to these materials, the Extension financial resource management team offers the FAFSA Awareness: Ready, Set Go workshop. The team delivers this free, one-hour informational workshop to seniors during the school day. For more information on this workshop or any of the Alabama FAST materials, contact Johnson at plj0009@aces.edu.