Home & Family
---
Alabama Cooperative Extension System Professionals Awarded at National Conference
October 3, 2022
Posted by: Dustin Duncan
AUBURN UNIVERSITY, Ala.—Several Alabama Cooperative Extension System professionals won awards for their excellent work at the National Extension Association of Family and Consumers Sciences Annual Conference in September.
The Supplemental Nutrition Assistance Program-Education (SNAP-Ed), the Expanded Food and Nutrition Education Program (EFNEP) and the Human Sciences Extension Program (HSE) all received accolades.
SNAP-Ed
SNAP-Ed received the National 1st place Program Excellence through Research Award for the success of the Body Quest parent initiative. Body Quest is an innovative childhood obesity prevention initiative that empowers third graders and their parents to make healthier choices.
"During the 2020-21 school year, parents of elementary school students received education about healthy beverage choices through BQ and the Live Well Alabama social marketing campaign using text messages, educational handouts, social media, digital ads and billboards," SNAP-Ed Coordinator Katie Funderburk said. "At the end of BQ, parent participants reported drinking more water and fewer sugary beverages compared to before BQ."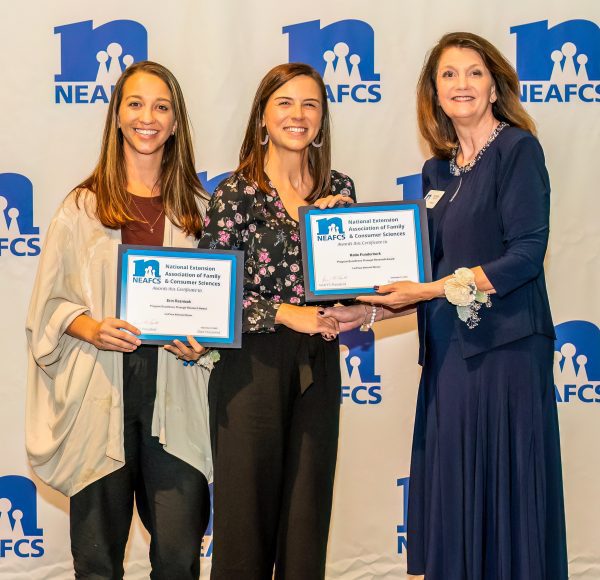 EFNEP
EFNEP won the National 1st place Marketing Package Award for the Today's Mom Drive-Thru Baby Shower Toolkit. This resource allows educators across the state to plan and implement drives to promote programming and collect valuable resources such as diapers, wipes, car seats and more for participants in Today's Mom, AU EFNEP's prenatal nutrition education program.
"The drive-thru baby shower was the brainchild of Ashley Butler, AU EFNEP educator in Randolph and Chambers Counties," EFNEP Coordinator Theresa Mince said. "AU EFNEP state staff developed a toolkit of marketing materials, planning and implementation guidance, and evaluation tools based on her pilot program in Randolph County."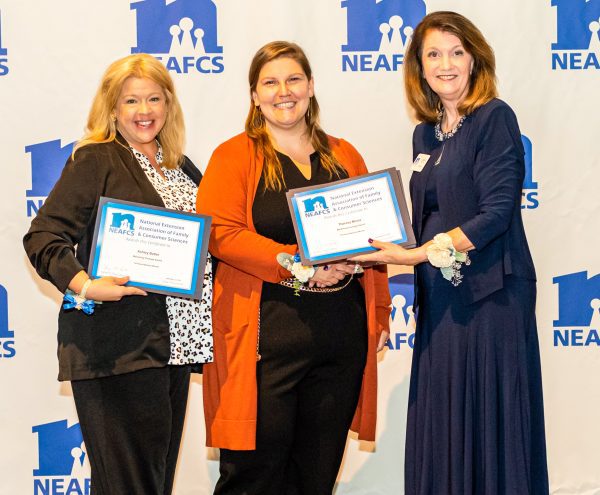 Alabama Extension Human Sciences
Adrienne Duke, associate professor and Extension specialist, and Synithia Flowers, regional extension agent, were second-place recipients of the national and regional Innovative Youth Development Program Award for the Escape Vapes initiative.
Escape Vapes includes several programs for teens, parents and adults. The program provides education to prevent and reduce the use of electronic cigarettes. The four-program offerings increase knowledge about the health risks of vaping and elevate users' confidence and ability to abstain.
Escape Vapes programs include:
Escape Vapes: A Prevention Program
Escape Vapes: Empowering Adults
Escape Vapes: Healthy Futures, an Alternative to Suspension
NOT on Tobacco (N-O-T), a smoking cessation program.
"The youth vaping epidemic is an evolving issue," Flowers said. "Through continued research and innovation, Alabama Extension Human Sciences is on the front lines providing progressive and effective programming that serve critical needs across the state."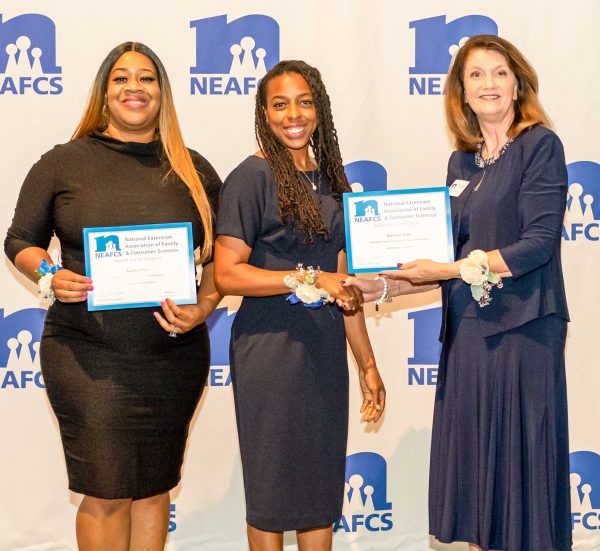 DeKalb County Extension Coordinator Lori Wheeler also received the Distinguished Service Award. The award recognizes Extension professionals for leadership, outstanding programs, and personal and professional growth.
For more information about SNAP-Ed, visit www.livewellalabama.com. For more information about EFNEP, visit aces.edu, and for the College of Human Sciences, visit www.humsci.auburn.edu/chs. To contact Wheeler, email her llw0011@aces.edu.