For You
---
AUBURN UNIVERSITY, Ala. – A recent study found that low-income residents of eight Southeastern states consumed much higher amounts of fruits and vegetables and improved shopping and nutrition-related behaviors when participating in USDA SNAP-Ed programs. The states selected had some of the highest obesity rates nationally, including Alabama.
The research was conducted by the Public Health Institute's Center for Wellness and Nutrition (CWN) with colleagues from the University of California Davis and four universities in the Southeast, including Auburn University. The findings were published in the Journal of Nutritional Science.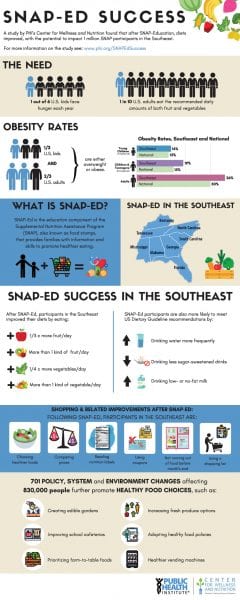 USDA's SNAP-Ed programs provide nutrition education and obesity prevention education to individuals and families at or below 185 percent of the federal poverty level. According to CWN, the Southeast has the highest average share of residents receiving SNAP benefits at 15.1 percent.
"Healthy foods can be expensive, and a SNAP budget is modest. But SNAP-Ed is helping low-income Americans in the Southeast make strategic choices that stretch their food dollars and empower them to choose more fruits and vegetables and other healthy foods," said Amy DeLisio, the director of the Center for Wellness and Nutrition at the Public Health Institute and a study co-author. "In the long run, these changes can play an important role in reducing their likelihood of diabetes, hypertension, and other nutrition-related diseases, and in reducing health care costs across the region."
Eating More Fruits and Vegetables
The study reviewed SNAP-Ed data collected in 2017 from participants in 25 different SNAP-Ed implementing agencies in Alabama, Florida, Georgia, Kentucky, Mississippi, North Carolina, South Carolina, and Tennessee. More than 43,000 low-income children, adolescents, and adults completed surveys before and after SNAP-Ed interventions. Following SNAP-Ed, low-income residents in the Southeast were more likely to report consuming more than one kind of fruit and one kind of vegetable per day as well as other dietary improvements including:
Increasing their daily consumption of fruit by about one-third of a cup and one-fourth of a cup of vegetables on average
Drinking water more frequently
Reducing consumption of sugar-sweetened beverages
Drinking low- or no-fat milk
Making More Informed Choices
Participants also revealed they were more likely to:
Choose healthier foods on a budget
Read nutrition labels or ingredient lists
Compare prices before purchasing food
Identify foods on sale or use coupons
Use a list when shopping
Not run out of food before month's end (a measure of food security)
According to CWN, these findings show that following participation in a SNAP-Ed program – participants are statistically more likely to meet the recommendations from the U.S. Dietary Guidelines and to adopt positive food resource management behaviors.
Supporting Better Nutrition
In addition to the dietary and nutritional improvements, the study documented 701 policy, systems, and environment (PSE) supports adopted across the Southeast region that reach about 830,000 people to promote healthier choices among low-income families.
"The environments in which we shop, work, eat, and simply live our everyday lives can have a big impact on the food and physical activity choices we make, whether we realize it or not," said Katie Funderburk, registered dietitian, and SNAP-Ed Extension specialist and study co-author. "In addition to teaching Alabamians about nutrition and physical activity, the SNAP-Ed team works to create change in communities. Our goal is to make the healthy choice the easy choice."
Some common PSE changes included creating edible gardens, improving food displays in school cafeterias, prioritizing farm-to-table foods, increasing fresh or local produce options, implementing standards for healthier food policies, and adopting school or childcare wellness policies.
Sondra Parmer, Alabama Extension Program Leader for Nutrition Programs and a study co-author, was happy, although not surprised at the study's findings.
"As reported in our SNAP-Ed annual report, we know that Alabama SNAP-Ed enables families to make positive dietary and physical activity behavior changes. It's nice to have evidence of these same outcomes replicated collectively across the Southeastern region."