For You
---
AUBURN UNIVERSITY, Ala. – Fire up the grill, grab a few sparklers and get ready to celebrate the Fourth of July weekend.
While the patriotic weekend is typically filled with fireworks and hot dogs, there are a few ways to support your healthy lifestyle while celebrating. The Fourth of July holiday is synonymous with freedom. It's important to remember that people have the freedom to make their own food choices.
Maintaining a healthy lifestyle doesn't mean that people can't have plenty of delicious options at the cookout. In fact, the Alabama Extension at Auburn University Supplemental Nutrition Assistance Program-Education (SNAP-Ed) has several recommendations for tasty dips, main dishes, snacks and even desserts at LiveWellAlabama.com.
"If you're someone who is trying to be mindful about what you're eating while enjoying the holiday, acknowledge that there will likely be yummy temptations there," said Sofia Sanchez, an Alabama Extension family and consumer sciences specialist and registered dietitian. "Think of a game plan that works for you before the party starts, whether that be filling your plate up with veggies or organizing a post-meal frisbee game to get everyone moving."
Appetizer
Let's start with the appetizers. America's independence typically leads to outdoor celebrations, but July in Alabama can lead to some pretty high temperatures. Live Well Alabama's Spinach Dip recipe is a cool party treat that has plenty of flavor.
Ingredients
One package frozen spinach, thawed, 10 ounces
1/2 cup low-fat sour cream
1 cup plain Greek yogurt
One package of vegetable dip mix, 1 ounce
1 teaspoon dill
Vegetables for dipping (carrots, celery)
Directions
Squeeze thawed spinach with paper towels to remove extra water. Mix together all of the ingredients. Cover and chill for 20 minutes. Serve with cut-up vegetables.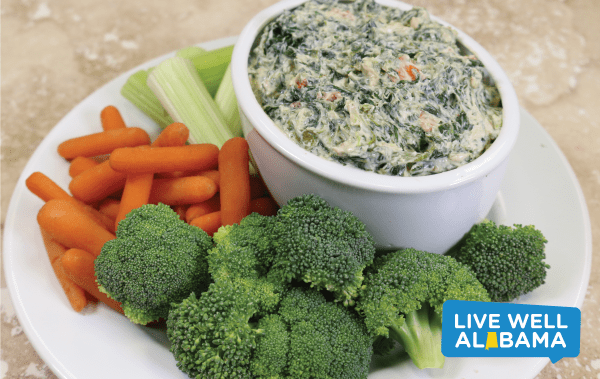 Side Dish
Looking for a side dish that is sure to be a hit at any party? Live Well Alabama's Picnic Pasta Salad combines tomatoes, cucumbers, bell peppers and more for a light side dish that pairs well with many meals. Besides tasting fantastic, this pasta salad takes just minutes to make.
Ingredients
½ cup fat free Italian dressing
¼ cup onion, diced
Two tomatoes, diced
One cucumber, diced
One bell pepper, diced
One 8-ounce package noodles, cooked
Directions
Mix ingredients in a large bowl. Chill and serve.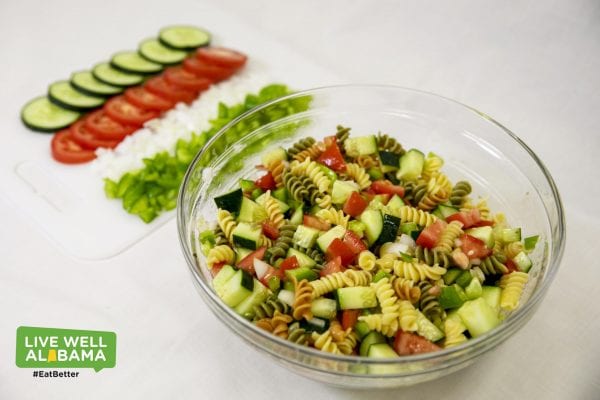 Main Dish
The Fourth of July may not be the same without something on the grill. A regular hamburger or hot dog may be typical options, but why not try Live Well Alabama's Half Veggie Burgers? These burgers bring together pinto beans, ground turkey or beef, bell peppers and all your favorite burger toppings. Not only are they savory, but they will also help save your budget.
Ingredients
Two cans pinto beans, 14 ounces each, drained and rinsed
One bell pepper, finely chopped
1 pound lean ground turkey or beef
One egg
Salt and pepper to taste
Cooking spray
Two tomatoes, sliced
Eight leaves of lettuce
Eight hamburger buns
Directions
Mash the beans with a potato masher or fork. (For a smoother burger texture, put the beans in a blender or food processor.) In a bowl, mix together beans, bell pepper, meat, egg, salt and pepper using your hands. Form mixture into eight patties. Spray a skillet with cooking spray and heat to medium‐high. Cook the patties for 4 minutes on each side or until done. The internal temperature should reach 165 degrees F and there should be no pink in the middle. Serve on buns with sliced tomatoes and lettuce.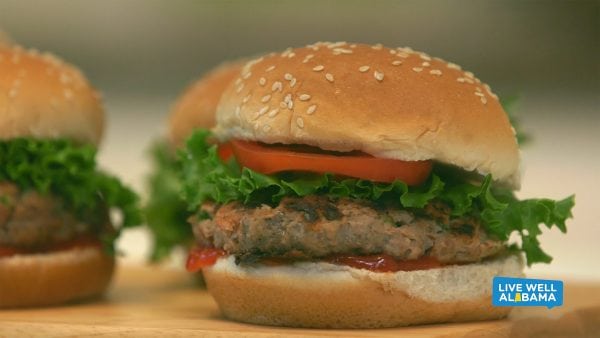 More Information
Check out all of the Live Well Alabama recipes for more holiday cookout or dinner options. Also, starting July 2, Live Well Alabama will launch a new series of Food Friday recipes. There may even be something to add to your meal plan this weekend.
For more information about Alabama SNAP-Ed or Live Well Alabama, visit LiveWellAlabama.com. You can also like and follow them on Facebook, Twitter, Pinterest and Instagram.