Food Safety
---
The Food Entrepreneur Conference is Changing Lives
March 3, 2020
Posted by: Jacqueline Kochak
in Food Safety
AUBURN UNIVERSITY, Ala. – The Food Entrepreneur Conference is changing lives for the better.
The Beautiful Rainbow Café, located in Gadsden's city library, serves vegetarian fare and dessert treats. The café is the brainchild Chip Rowan, a special education teacher. The café operates under the same constraints as any other business, and Rowan's students prepare all the food. Because of their involvement with the café, 13 of his students are now employed by other local businesses.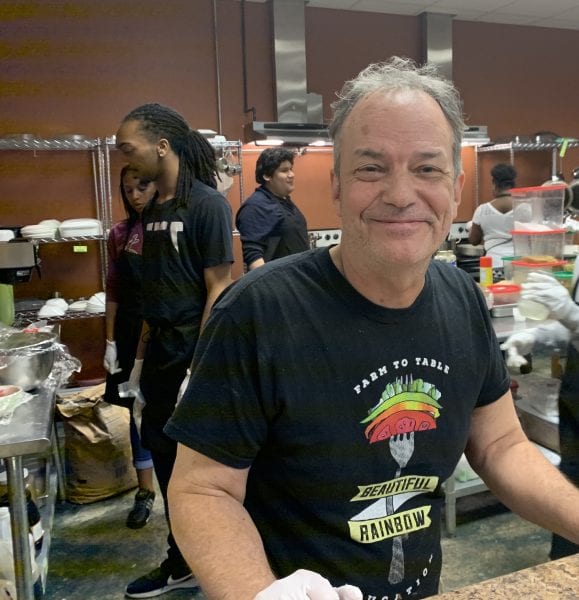 Rowan said the café might not haven been possible if not for the Food Entrepreneur Conference, an annual conference co-sponsored by the Alabama Cooperative Extension System and the Auburn University Food Systems Institute.
"When I first had the idea for this program, I knew nothing about the food industry," Rowan said. "It was absolutely the best conference of any sort I have ever attended, and I've been to plenty."
Food Entrepreneur Conference
Each year, food entrepreneurs, state officials, Auburn University faculty, representatives from the Small Business Development Center (part of the Small Business Administration) and members of Alabama Extension's food safety and quality team converge on the conference to share information about every step of starting and running a food-related business. The two-day conference is also an important networking opportunity.
"I met some people who were great mentors to me and continue to be mentors," he said. The conference also pointed him in the right direction to get more information."
2020 Conference
Previously hosted in Auburn, this year's conference is April 8 and 9 at the Clanton Conference and Performing Arts Center in Clanton, Alabama. Because of its popularity the conference, now in its eighth year, has sold out the last two years.
The conference's popularity is thanks to a nationwide trend to eat more locally sourced foods and manufactured products. With Alabama's agricultural roots, food processing offers a natural way to grow the state's economy.
Rowan said he has wanted to attend the conference again. Now, he is getting the chance as one of two keynote speakers. The other keynote speaker is Joe Friday, CEO of Whitfield Foods in Montgomery. Whitfield Foods is the manufacturer of Alaga sweet cane syrup, a longtime Southern favorite. When health-conscious consumers started moving away from sugars and syrups, Whitfield Foods adapted and moved into packaging and shipping a wide range of drinks for PepsiCo, including Tropicana, Dole, Lipton, Sobe, Amp and Gatorade products.
Rowan and Friday will be joined by representatives from the Alabama Department of Public Health, the Small Business Development Center and Alabama Extension, along with experts on specific topics. A conference highlight will be panels of businesspeople who have taken the food entrepreneurship plunge and opened their own food-related businesses.
On day two, participants can choose between several specialized breakout sessions including:
Cottage Food Law certification. This allows food entrepreneurs to prepare some food products at home.
catering/food service/bakery
writing a business plan and obtaining financing
the business of cake decorating.
Registration
Pre-registration cost for the event is $175 until Friday, March 27. After that, the cost will be $225. Registration for the conference is online through the Auburn University website. People can also call Regina Crapps at 334-844-7456. Visit the Food Entrepreneur Conference Facebook page for updates to the conference agenda.