Food Safety
---
Nutrition Facts Panel Order Form
Following these important steps will ensure the speediness and accuracy of your Nutrition Facts Panel (NFP):
Please include the most accurate measurement of each ingredient as possible. Weighted measurements (grams, ounces by weight, pounds, etc.) are preferred. For liquid or spices, fluid ounces and teaspoon/tablespoon are acceptable.
When listing the ingredient, please indicate whether it is fresh, dried, whole, ground, frozen, etc. The more specific the better!

For instance, instead of "2 tablespoons garlic", "30 grams dried garlic powder" would be most helpful.
Make sure to include each and every ingredient you use to make your product.
For example, if you saute onions in olive oil before mixing them with other ingredients, make sure to include the olive oil in the ingredient list.

Next, provide the label display of any prepared product that you use. Email a readable, clear photo of the NFP from the package.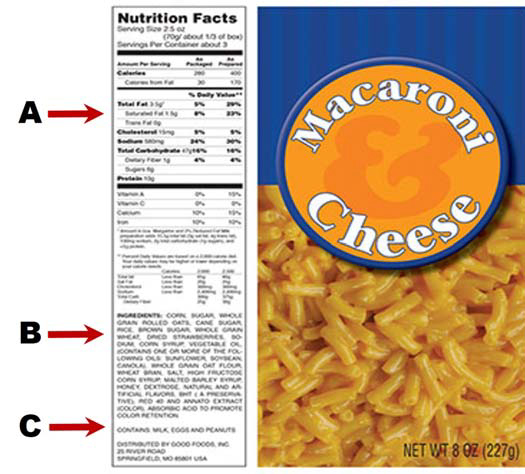 A label display should include the nutrition facts panel (A), ingredient statement (B), and allergen statement (C) (if any).
Examples of ingredients for which a copy of the label display is required: Prepared foods such as Ketchup, Italian salad dressing, Bacon Bits, shredded coconut, spice blends, salsa, soy sauce, etc.
Examples of ingredients for which we do not need a label display: onion powder, water, spinach, coconut oil, sugar, eggs, yellow onion, green bell pepper, etc.
If you are cooking your product, make sure the ingredients in the recipe are listed as their raw (precooked) weight. Record the weight of the batch before and after cooking in the form.
Contact us if there are any unusual processing methods that may alter the NFP. Additional questions may be asked in regards to cooking methods or weights.