Fish & Water
---
Extension Water Program Team Working to Create a Sustainable Future
AUBURN UNIVERSITY, Ala. – Water has been a widely-discussed topic this year, as many areas of Alabama have experienced above average amounts of rainfall. However, for the Alabama Cooperative Extension System's water program team, water is always an important topic. From times of drought to times of excess rain and everything in between, the water program team is committed to providing information and resources to help Alabama residents.
Get To Know The Team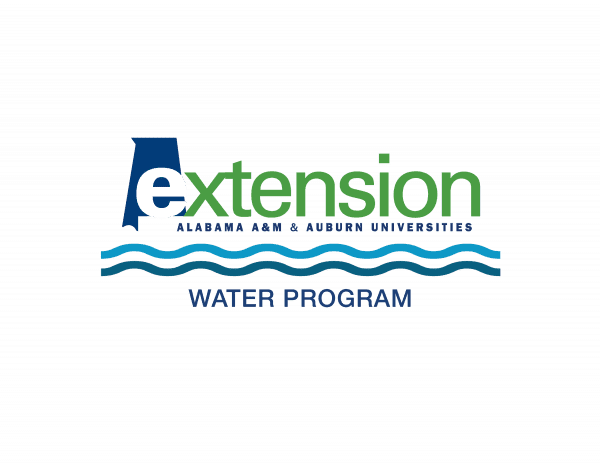 Laura Bell, an Alabama Extension water program coordinator, said the program works to empower communities, farmers, cities and schools to become better stewards of their water resources.
"The goal of the program is to make a positive impact on water quality issues throughout Alabama," Bell said. "This is done through on-the-ground Extension and outreach, watershed resource planning and education initiatives."
In their efforts to revive currently-impaired urban waters and plan for a more sustainable future, the team facilitates multi-year projects that use a community-led, watershed-based approach.
What's New?
The team has recently built upon and launched several educational resources and programs for Alabama residents. Current grant-funded education and outreach initiatives for the team include the Alabama Watershed Stewards Program, the Private Well Program and the Sustainable Irrigation Expansion Project.
Jessie Curl, an Alabama Extension water program coordinator, said these resources and programs help further the team's mission of protecting Alabama's waterways.
"These programs and educational resources allow the team to reach Alabama residents interested in preserving and protecting water quality across the state," Curl said.
Alabama Watershed Stewards Program
The Alabama Watershed Stewards Program (AWS) demonstrates the role residents can play as stewards of their local environment. The AWS curriculum introduces participants to diverse topic areas.
the basics of watershed function
water quality parameters and watershed impairments
best management practices for improving water quality
the role of community leadership and watershed planning
local watershed groups in their region
"The AWS program provides people with the tools they need to make a meaningful impact in their own watershed," Bell said. "The curriculum is offered as both an online course and an in-person course."
To complement the curriculum, AWS also provides other educational resources. They provide more in-depth training opportunities, educational publications and information for designers and engineers on installing green infrastructure practices. The team will announce new trainings in early 2022. Recent publications from the team include A Homeowner's Guide to Rainwater Harvesting in Alabama, How to Install a Rain Garden and Planning and Conducting Litter Cleanups. These recourses, and many more, are available under the Water Resources section of www.aces.edu.
Private Well Program
The recently-launched Alabama Private Well Program provides information to residents that use groundwater as their primary drinking water source.
"About 11 percent of the state's population depends on private water supplies, such as wells, for drinking water," Curl said. "This program provides educational resources that cover many of the important aspects of private well management."
These resources cover information on the basics of well water and well ownership. This information includes private well-water testing, common well issues and more. These resources are available under the Private Well Program section of the Alabama Extension website. The team will announce new trainings in early 2022.
Sustainable Irrigation Expansion Project
The goal of the Sustainable Irrigation Expansion Project is to create watershed plans that will sustainably expand irrigation to farmers. The idea is that these plans can demonstrate that putting more acres under irrigation can be done in a manner that supports agriculture and rural economies, all while minimizing the impacts to environmental and cultural resources. This project is a partnership between Auburn University, the USDA Natural Resources Conservation Service, the Alabama Soil and Water Conservation Committee and the University of Alabama in Huntsville.
More Information
To learn more about the Alabama Extension Water Program and their upcoming projects and resources, visit www.aces.edu. People can also contact the team directly at stewards@auburn.edu or alwells@auburn.edu. The team is also active on Facebook and Instagram.