Finance & Career
---
Planning Your Professional Wardrobe Part 3: Color in your Professional Wardrobe
October 5, 2018
Posted by: A. Reneé Heard
*This is part 3 of 3 from Planning Your Professional Wardrobe.
When thinking about color in your wardrobe there are a few points to consider including skin tone, color schemes and seasons.
Guide to Ensure Color Becomingness
Color and Skin Tones
Color should be chosen so that the wearer remains the center of interest; not dominated by any color or color combination. Most individuals can wear just about any color — provided they select the shade, clarity, intensity, and amount that is flattering to them.
Cool colors are more becoming on skin tones with blue undertones.
Warm colors are more becoming on skin tones with golden undertones.
Those with deeper undertones have an advantage since their striking coloring easily remains dominant.
Those with olive or pale undertones should be cautious about wearing blended hues such as blue-green, magenta and yellow-green. These are the most difficult colors to wear because they may draw an unpleasant cast to the skin.
Be careful about choosing brighter intensities of hues that are similar to the hues in your own coloring. The rich tones of the American Indian, African American, and vivid brunettes are enhanced by shades of warm colors such as brown, reds, rust, golds, and warm yellows. Colors found in the earthly shades during autumn and spring are also ideal.
European Americans and most Hispanics with light skin tones and blue undertones are most becoming in colors like true blue, true red, vivid greens, pinks, and purples. Colors found in the earthly shades during winter and summer are ideal.
Colors in the Wardrobe
To dress effectively, one must know the shades, clarities, values, and amount of color that works best, in addition to following color coordination rules.
Everyone may wear dark colors like black and navy for most practical purposes.
White brings out all of the color in the skin.
Yellow reflects its color upon the hair, eyes, and skin.
Colors light in value will increase the apparent size of the wearer.
Dark colors decrease the apparent size of the wearer.
Colors used with gray, black, or white appear clearer.
Colors may be emphasized in repetition (brown emphasizes brown eyes).
Colors should be worn in pleasing combinations.
Color Schemes

Complementary: Colors directly across from each other on the color wheel.

Analogous: Colors that fall side-by-side on the color wheel.

Monochromatic: Colors in the same shade or hue.

Triadic: Three colors in equal distance from one another on the color wheel.
Colors by Seasons
People's skin tones can be WARM or COOL. WARM refers to golden under skin tone; whereas COOL refers to blue under skin tone.
Most people will fall clearly into one category or the other, with the exception of true olive skin, which can be mistaken as warm but may actually be cool.

►  Colors are divided into four categories that correspond with the four seasons. 
The Cool Seasons
Winter: Black, Sapphire Blue, Clear Red, Emerald Green, Deep Lemon
Summer: Charcoal Gray,  Baby Blue, Rose,  Apple Green, Light Lemon
The Warm Seasons
Autumn: Dark Brown, Teal, Orange, Olive Green, Gold
Spring: Warm Beige, Turquoise, Shrimp, Lime, Bright Yellow
Colors that Compliment Your Face
When dressing professionally, colors that compliment your skin tone should be used close to your face.
Ladies: You can wear a blouse in a color that compliments your skin-tone with your suit.
Gentlemen: Try wearing a nice tie in your complimentary colors to blend with your shirt and suit.
The Color Palette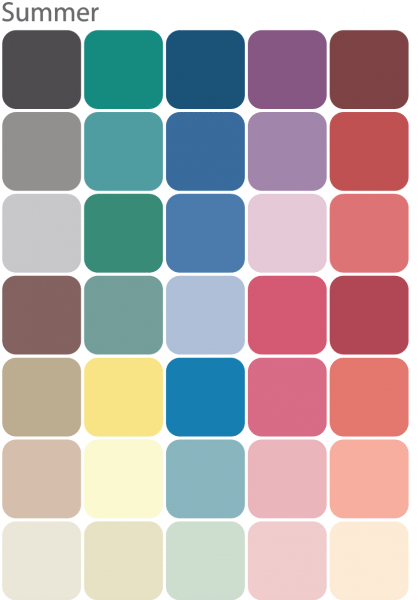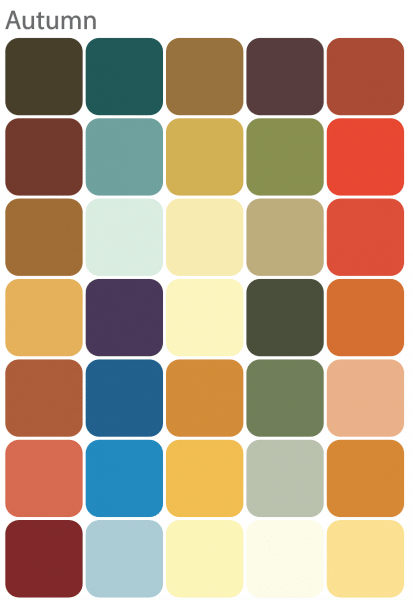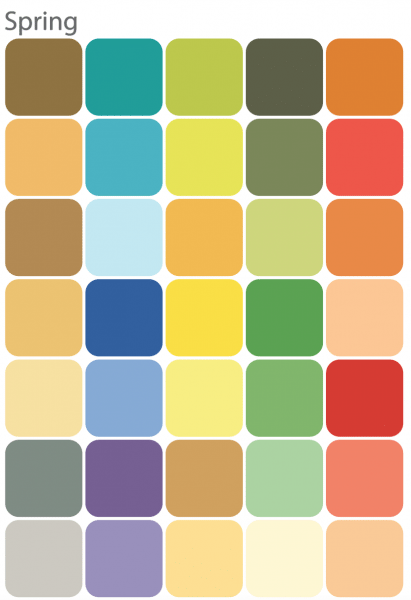 Wardrobe Planning Chart
Download the printable version: Wardrobe Planning Chart
| Activities | Basic Apparel | Accessories | Needs & Priorities | Extenders (Item you want, not need) |
| --- | --- | --- | --- | --- |
| School | | | | |
| Job | | | | |
| Religious & Special Events | | | | |
| Social Activities | | | | |
| Leisure | | | | |
| Lounging & Sleeping | | | | |
| Outer Clothing | | | | |
| Other | | | | |
References
Boston, L. (2005). Before you put that on. New York, NY: Atria Books.
Centrallo, C. B., & Lane, R. (2005). Work for me: Employment life skills curriculum. Alabama Cooperative Extension System, Publication HE-0791a.
Cho, E., Fisher, N., Leuders, H., & Lickona, C. (1986). It's you! Looking terrific, whatever your type. New York, NY: Villard Books.
Cho, E. & Lueders, H. (1982). Looking, working, living terrific 24 hours a day. New York, NY: Ballantine Books.
Graza, J. & Lupo, J. (2008). Life in color. San Francisco, CA: Chronicle Books LLC.
Heaton, L. & Baker, M. M., ed. (2008, March). Not everyone is a size 9!: Wardrobe strategies for women. Kentucky Cooperative Extension Service, Publication FCS2-809.
Mathhis, D. (1995). Women of color: The multicultural guide to fashion and beauty. New York, NY: Ballantine Books.
Downloads
Take a Look Back:
Planning Your Professional Wardrobe Part 1: Your Professional Image
Planning Your Professional Wardrobe Part 2: Dressing for your Body Type
Source: A. Reneé Heard, Urban Regional Extension Agent, Morgan County Office, Alabama Cooperative Extension System at Alabama A&M University.