Farming
---
AUBURN UNIVERSITY, Ala. – Military veterans are honored and revered across America for their sacrifices. Their endeavors to serve and keep the United States safe make Americans proud to honor them. In an effort to give back to individuals who have given so much, Operation Grow is a project to help train and support veterans in agriculture.
"We are all here to help people," said Mike Phillips, Alabama Cooperative Extension System director. "Operation Grow will be very beneficial to our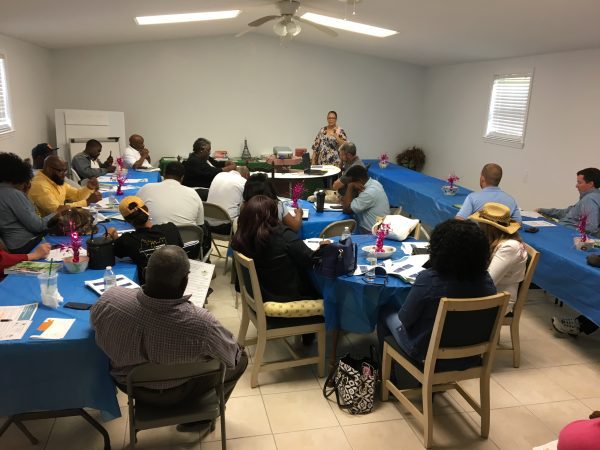 veterans. It is an honor to collaboratively provide assistance to those who have served our country."
Commissioner of Agriculture, Rick Pate, said the Alabama Department of Agriculture and Industries (ADAI) has seen programs that have lasting impacts on veterans. Pate said ADAI was looking for an opportunity to expand their support for veterans.
"Extension came to us with this proposal with the framework already in place and we are a natural partnership," Pate said. "Operation Grow is a program that really aims to help veterans get started in agriculture and I am excited about it."
Operation Grow
Operation Grow project, as part of the Alabama Beginning Farmer program in partnership with ADAI, provides special emphasis on the training needs of military veterans interested in specialty crop production.
Harli Willis, Operation Grow project coordinator since 2015, said the Alabama Beginning Farmer program—led by the Alabama Extension commercial horticulture team—has helped more than 400 small producers across Alabama.
"Now the team has developed Operation Grow for veteran farmers," Willis said. "Implications of this project on mental health and employment priorities in veteran communities is going to be outstanding over time."
The program's intentions are to systematically train and provide networks to veteran farmers while supporting and aiding them long-term. Operation Grow provides a three-step farm planning support system to military veterans interested in farming using hands-on, on-farm and digital media-based training. The program integrates technical, experiential and social learning for veteran-owned farms.
Program leaders will help veteran growers network with other support agencies and non-government organizations to extend the current knowledge base and assess future needs. The program offers sustainable support for veteran farmers with localized multi-agency collaboration to increase farming success.
Changing Lives
Kathleen Saucier and Dave Flounders, owners of SSSVP Farms and Veterans Ventures, said their experiences have shown a need for support for veteran farmers. Support is needed in many areas, including small business plans, accessing resources, understanding and navigating the veteran-owned business arena and connecting with other Alabama veterans.
"We believe strongly the Operation Grow proposal fits our mission: Foster independence and model sustainable healthy living habits for veterans struggling with homelessness and joblessness," Saucier and Flounders said.
Networking to Success
Operation Grow supports grassroots educational and networking efforts that are inclusive of all veterans and their families with universal access to information and resources.
"The Operation Grow pilot project started in Limestone County in 2015 and the relationship I developed with Alabama Extension provided a solid foundation for me to begin farming," said Gregg DeBoer of DeBoer Family Farm. "As a combat veteran I can tell you that falling into farming has absolutely saved my life. It truly makes a difference."
More Information
Military veterans interested in establishing a training schedule in their county can contact a commercial horticulture regional Extension agent or county coordinator. Use the Farming Basics mobile app to locate your county-based contacts and connect to a variety of digital and social media resources. These include the Farming Basics online course; a crop, insect, disease and weed database; and social media tools.
Learn more about the Alabama Beginning Farmer Program by visiting www.AlabamaBeginningFarmer.com. See Where to Start: A Basic Program Resource Guide for Beginning Farmers for information about technical assistance providers for on-farm assistance with loans and certifications.