Farming
---
The week of March 8 is International Women's Week. To highlight the amazing women working in the agricultural industry, the Alabama Extension animal science and forages team will release video interviews throughout the week to promote the women who built their careers on forages and the animal industry through engagement with research, industry, and/or production aspects.
The women appearing in these videos are Lisa Kriese-Anderson, Donna Curtis, Jacee May, and Randa Starnes. The videos will be available through the Alabama Beef Systems Extension Facebook page. The week will culminate in a virtual roundtable, where the panel will discuss challenges they have faced and share their experiences.
Tune in on Friday
When: March 12 at 1 p.m. CT
Where: Zoom
Zoom Registration
Registration is required to attend the roundtable. The Zoom meeting number and link will be provided upon completion of the online registration. Visit https://auburn.zoom.us/meeting/register/tZYtduqgpjItGdRUFAtQCZSoPCapx16J3KnJ to register.
New to Zoom? Visit the Zoom website to watch a video that will help you prepare to attend.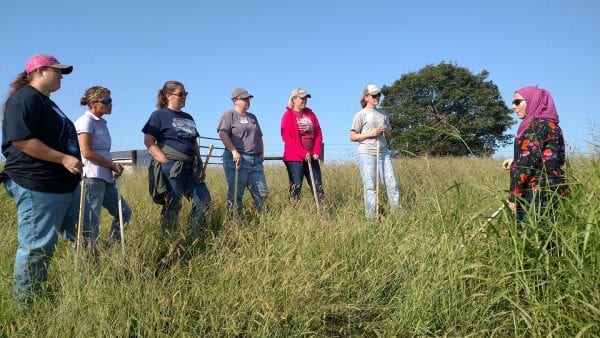 Roundtable Panel
Donna Jo Curtis, former ACA president and owner of Curtis Farms
Jacee May, range and pasture specialist, Corteva Agriscience
Randa Starnes, hereford and angus producer
Kim Mullenix, beef specialist, Alabama Extension
Leanne Dillard, forages specialist, Alabama Extension
Kelly Palmer, animal sciences and forages regional agent, Alabama Extension
Liliane Silva, animal sciences postdoctoral fellow, Auburn University
More Information
For more information on the Empowering Women in Agriculture videos and virtual roundtable, contact Liliane Silva at lzs0105@auburn.edu or 344-844-1559.